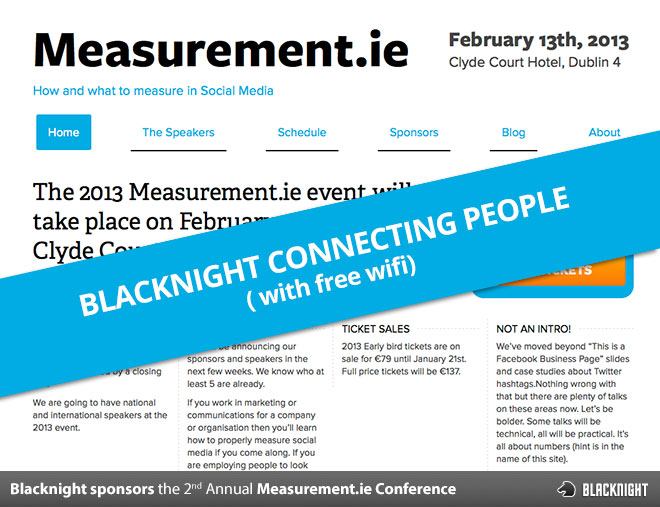 We sponsor a select number of events, causes and groups every year (before someone decides to flood my inbox asking for sponsorship!).
How do we select them? There aren't any "set" criteria – the basic criterion is that they have to pass our "sniff" test. Either we think the event is "cool" or "interesting" or we really like the "cause" it supports.
You can see a selection of events and organisations we've sponsored in the past here and you'll see they're pretty diverse.
During 2013 we'll be sponsoring a number of events both here in Ireland and overseas (even if it's just a case of me buying a few people a beer or pizza!)
One of the first events we're involved with this year is Measurement where we'll be sponsoring the wi-fi. Hopefully a couple of us will be able to attend on the day as well, so if we are do say "hi" 🙂
Release below:
 Blacknight Sponsor 2nd Annual Measurement.ie Conference
Leading Irish registrar supports social data community

January 17, 2013 – Carlow, Ireland – Social media heavy domain registrar and hosting company Blacknight proudly announce their place as a sponsor for the 2013 Measurement.ie event.

The 2013 Measurement.ie (http://measurement.ie/) event will take place on February 13th in the Clyde Court Hotel, Dublin 4. The event, aimed at those in marketing and communications focuses on the "how" and "why" of social media measurement.

Blacknight (http://www.blacknight.com) do social media as well as they do domains, so sponsoring Measurement.ie as the tech partner for the second year was a no-brainer.

Damien Mulley, organiser of Measurement.ie states: "We're delighted that Blacknight is back as our tech partner this year and will be supplying what is the crack cocaine of tech conferences: free, reliable, Wi-Fi."

Michele Neylon of Blacknight explains: "We are huge fans of the Measurement.ie event and are pleased to sponsor one of its most important elements. Without Wi-Fi, attendees can't tweet about the event as it unfolds and that is half the fun."

While the content of the event will focus on how to track and quantify social media numbers, the focus will be less on entry-level knowledge and more on the practicality and application. The day will comprise of talks in the morning, workshops in the afternoon followed by a closing talk.

Neylon continues: "We enjoy partnering with Measurement.ie because we are passionate about social media almost to the point of fanaticism. We are evangelists of using the medium to directly reach out to customers as well as of harvesting the numbers to understand what works and what doesn't. Social media has helped us to build our company to where it is and attendees of Measurement.ie will learn to do the same."

The event will be hosted by Rick O'Shea. Speakers include John Bell, the head of Ogilvy's global social media and business solutions practice and Dena Walker, Head of Digital at Irish International. The event is organised by Mulley Communications who also organise the Social Media Awards and The Web Awards.

Early bird tickets for Measurement.ie are on sale for €79 until January 21st. Full price tickets will be €137.

To learn more about the event, please visit http://www.Measurement.ie

For more information on Blacknight please visit http://www.blacknight.com

About Blacknight:
Blacknight are an Irish based, ICANN accredited domain registrar and hosting company. Recipients of several awards for their revolutionary use of social media, Blacknight are one of Europe's most cutting edge Internet companies. Blacknight constantly seek to lead the way by introducing innovative solutions for its client base and provide dedicated servers and colocation as well as a comprehensive range of Microsoft Windows and Linux based hosting plans and domain name registration services to business globally.