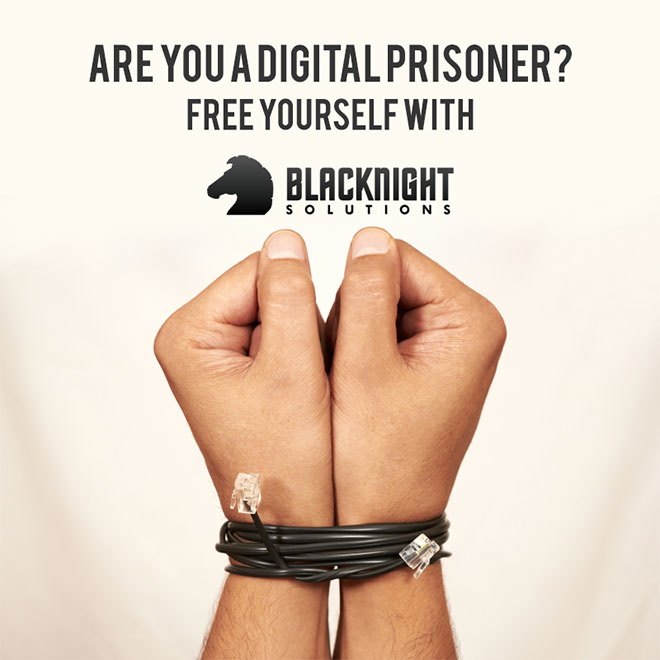 It's a New Year, so it's a perfect time to make changes, start new projects and "put your best foot forward".
With that in mind we're encouraging people to have a look at their "digital life" and see how they can make the best of it (watch this space for more articles on this in the coming weeks!)
Blacknight Encourage Customers to Upgrade Their Digital Lives in The New Year.
Irish registrar provides a la carte services for a unique customer base

January 2, 2013 – Carlow, Ireland – Blacknight invite customers to start 2013 with a clean digital slate.

It is becoming increasingly important to have a safe hub where all of a user's content that is stored across a variety of social media and blogging software can exist in one accessible place. Blacknight (http://www.blacknight.com/) aim to provide their customers with best of breed technology to help organise a full but scattered online life.

The leading Irish registrar and hosting company offer a variety of services to
get one's online identity in order. Whether registering domains for projects in the New Year, or hosting email and websites, Blacknight offers packages and solutions for all levels of online engagement.

Michele Neylon of Blacknight states: "The start of the year is all about making resolutions and beginning with a clean slate. I can't think of a better illustration of that than to get one's digital house in order. Making sure all of the domains are registered for new projects you want to start, your registrations are in one place, and your hosting and email needs are secure is all you need to get a jump on your online organisation."

Blacknight offers domain registration (http://www.blacknight.com/domains.html) in over hundred extensions including .COM, .EU,  .CO and .ME, which can be perfectly paired with "No Fluff" Cloud Hosting. Aimed at replacing the existing Virtual Private Server (VPS), Blacknight's "No Fluff" Cloud Hosting (http://www.blacknight.com/cloud-hosting.html) currently operates through a range of plans with fixed resources, ranging with options of up to 12 Gb of RAM, 8 vCPUs, 85 Gb of hard disk space and massive amounts of bandwidth starting at €12.99 per month.

For those who prefer a more traditional hosting setup, Blacknight also provides Standard Shared Hosting, Business Email Hosting (http://www.blacknight.com/hosted-exchange.html) , Hosted SharePoint, Dedicated servers, colocation, and Mobile Friendly Hosting through goMobi (http://www.blacknight.com/gomobi.html). Each service has several pricing and performance tiers so Blacknight customers can create a package that fits their needs.

Neylon Continues: "We understand that our customers are unique and can have vastly different needs. We don't agree with the idea of  "one size fits all" packaging so we pride ourselves on having a variety of services that our customers can mix and match to suit their individual purposes. We don't like to pay for more than we need and our customers shouldn't either."

To explore the range of services that will help jump start online organisation, please visit http://www.blacknight.com

About Blacknight:
Blacknight are an Irish based, ICANN accredited domain registrar and hosting company. Recipients of several awards for their revolutionary use of social media, Blacknight are one of Europe's most cutting edge Internet companies. Blacknight constantly seek to lead the way by introducing innovative solutions for its client base and provide dedicated servers and colocation as well as a comprehensive range of Microsoft Windows and Linux based hosting plans and domain name registration services to business globally.