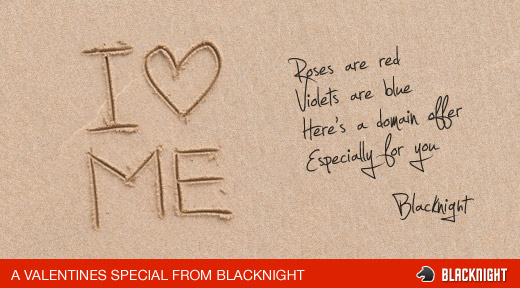 Valentine's Day might be a wonderful concept if you've got a "better half".
If you don't, however, it can be a really annoying day.
For the last few weeks the shops have been trying to tempt people with cards, gifts and flowers…
So what better way to deal with the Valentine's Day blues than by showing yourself a bit of self-love?
Treat yourself to a domain name this Valentine's Day – You know you want to!
Jilted by a former lover? Annoyed with your ex?
Registering a domain name might help bring some calm.
So here's the deal.
It's pretty simple.
Use the following coupon code: valentine (cAseSEnsitive) when registering a domain name via our site and you will get the following discounts:
Register .ie domain name for 1 year for €9.99 ex-VAT
Register .com /.net / .info / .eu domain name for 1 year for €2.99 ex-VAT
Need inspiration? Try out our domain suggestions over on Dropped.ie
Not only can you find nice previously owned IE domain names, but you can also get some really cool suggestions for .com names!
NB: Offer expires at 2359 UTC February 14th 2010. No coupon code = no discount. Only one coupon code per order and only for registration periods described.
NB: Yes we are stretching it a bit by suggesting that a domain name can mend broken hearts, or anything like that, but a discount is still a discount …