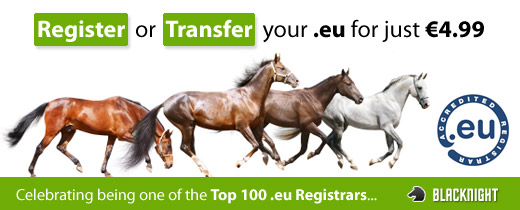 I'm a strong believer in setting goals. They help me to remain focussed.
We have been the largest registrar of .eu domains in Ireland for quite some time, but I really wanted to get us into the top 100 .eu domain name registrars globally.
So I was delighted to get an email from one of Eurid's staff this morning to inform me that we have finally hit that milestone.
So to celebrate we're offering .eu domain name registrations and transfers for only €4.99 for the entire month of November. (No coupon codes or secret handshakes required!)
If you're doing anything interesting with a .eu domain name please let us know – we are always looking for case studies and examples to put on our site.