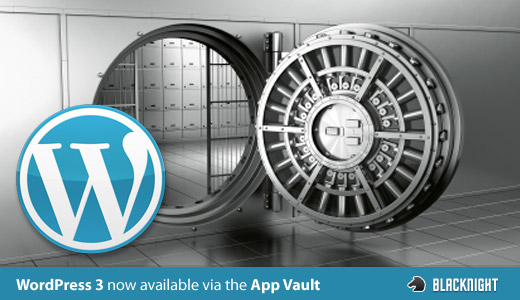 We're happy to announce that WordPress 3 is now available via the app vault on the Blacknight control panel. The app vault comes with all
Shared Hosting Plans
which are available from as little as €4.95 a month.
What does this mean for you? Good things
WordPress 3 comes with:
a new default theme (called Twenty Ten)
menus
post types
contextual help on every screen
bulk update of plugins ( no more click one upgrade click one upgrade)
and a whole lot more including over 1000 bug fixes
But maybe this video can explain things a lot better that we can in a few words
So what does all this mean for you ?
If you don't have a blog? and want one with minimum hastle to install then log into your control panel. On the left you'll see the Application Vault. Click this and then click on blogging software and then click on WordPress and away you go configure it how you will.
If you already have a WordPress Application Vault install? this is another matter. As always when upgrading software we recommend you back it up. Application Vault installs are not covered by the Control Panel Backups solution. So we recommend you make a local backup of all your files (normally via FTP). Also make a backup of your database. You can then upgrade your Application Vault install via the Application Vault. For maximum compatibility its recommended you do the upgrade in this way and not via the automated WordPress Upgrade system
As always when upgrading WordPress you should check compatibility with your plugins. Plugins are generally created by third parties and may end up breaking things with your install. We recommend therefore during the upgrade process that you disable your plugins before you go to upgrade. As a webdesigner its one of the most common problems I come across with WordPress upgrades, everything stops working. Taking steps to disable the plugins pre upgrade should ensure a safe upgrade.
If you're coming from the land of the self install and your install is relatively up to date you can probably update it via the admin area of WordPress. Again we recommend backing up your files and database (which you can do via the control panel backups and in case anything goes wrong you can revert) checking compatability of plugins and disabling them before upgrading and then re-enabling your plugings.
If you want to do a fresh self Install you can find WordPress's latest version over at http://wordpress.org/download/
A final word: Most of the current or older themes won't be able to take advantage of some of the newer features initially however you should be able to see the features via the new twenty ten default theme.
Enjoy WordPress 3 Safely always backup your files and database 🙂
Not interested in our easy to install WordPress solution ? We've a whole pile of other easy to install applications available via the app vault