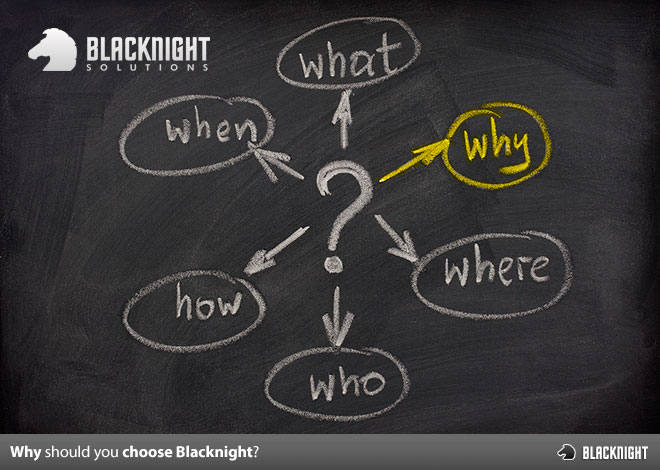 People often ask us why they should choose us as a hosting company. Hosting is hosting,  right ?
Wrong.
Hosting and domain name services are critical to the availability of your website. If something  impacts either of these, your website will not be available for people to visit.
With business relying more and more on their online presence to advertise their services and sell their products, can you afford for your website to be unavailable ?
Choose Blacknight for your domain names and hosting today and here's why.
We've recently invested heavily in the upgrade of our help desk system, to provide you with even quicker and enjoyable support experience (we're famous for our customer support) .
We're ICANN accredited. (This means we play with the big boys and can pass on the best pricing to you our customers we're not just a reseller).
Whether you're looking to host a simple one page site or need to host a power hungry application we've got your covered from our shared hosting to our Enterprise cloud offerings.
Our engineers are on call 24 / 7 /365 ( we let some of them sleep from time to time ).
Web hosting and domains isn't the most glamourous business, so we try and make things fun for everyone. Not to mention a few competitions to win some cool stuff now and again.
We're however very serious about what we do as well. We're investing heavily in building our own green data centre to complement our presence in our other data centers. This means you can be confident that we're not here for the "quick buck" and that we believe in the long term view and if we can do that by helping the local economy, all the better.
We're based in Ireland, are 100% Irish owned and all our data is hosted in Ireland.
So , if you're looking for a domain or hosting, why not check out our special offers today at domainoffers.me, or if you simply want to ask us a something, you can find our contact details here .
(Original Image: Mind Map via BigStock)