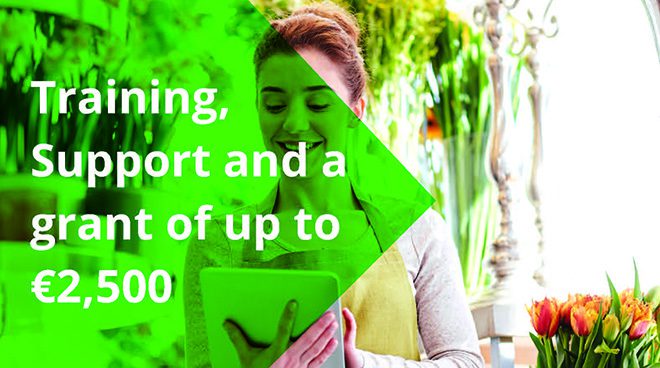 Blacknight went to Cork earlier this month, to take part in the South Cork Local Enterprise Office Information Day about the Trading Online Vouchers (TOV) scheme. These vouchers are available to SMEs from Local Enterprises Offices (LEOs) all over Ireland, providing matched funding up to €2500 to help companies to trade online.
But as Dr Stephen Brennan explains, the scheme is about sharing expertise, as much as it's about money. In fact, it's a condition of applying for Trading Online Vouchers, that you have attended an information event such as this.
Dr Brennan is the government's Chief Digital Advisor, and afterwards he spoke to Blacknight for our Technology.ie video series.
The event in Cork is one of a series of regional events being run by the Department of Communications, Climate Action and Environment (the next ones are in Dublin on April 3 and Kilkenny on 23 May). Speakers included web developers and marketing experts, representatives of Facebook and Paypal, and case studies featuring real-life business success stories. We've got several more interviews from the event to publish over the next few days.
The key message was that it's no longer enough (if indeed it ever was) to simply put up a brochure website and wait for the business to roll-in. As the day got under way, Stephen asked for a show of hands:
I asked the audience a question this morning: how many businesses had a website? Pretty much everyone put up their hands. I then asked a second question. How many of those businesses made a modification to the website today? I think I had two. There's nearly 200 people here.
Trading online has to be integrated with your business, he explains, just like opening your shop, or making a phone call.
Financial Support and Access to Expertise
The Trading Online Vouchers scheme is designed to give small businesses a chance to get financial support and access to expertise they need to develop and engage online customers. They can be used for:
The development or upgrade of an e-commerce website such as implementing online payments or booking systems
Purchase of Internet related software
Online advertising
Development of an app
Implementation of a digital marketing strategy
Consultation with ICT experts for early stage adopters of online strategy
Training/skills development specifically to establish and manage an online trading activity
Photography
For further information, contact your nearest Local Enterprise Office.
A good online business strategy begins with a good domain name. And did you know that our Basekit Website Builder comes with ecommerce built right in?