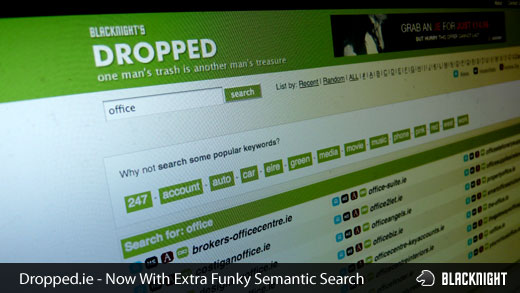 We've all wasted hours of our time trying to grab Internet domains that are already registered. That's why we launched Dropped.ie – to display on one page all the domains around a single word that are available to register or buy right now.
But not content with that, we've added a semantic element to the service – so if you type in a certain word, we will also seek out available domains that are related to it.
The example we have been using to show it off is "espresso" – which will also display results with the word "coffee" in. It's mostly dot-ie domains at the moment, but we also have dot-coms and are looking to expand it across all the top-level domains that Blacknight sells.
We also pull in third-party domains for sale, and let you choose regional terms to help you get to a suitable domain as quickly as possible.
One click next to each domain will display the domain's history and its popularity.
And a single click will pull you through to a registration page for that domain – making it easier than ever to get your domain and get it fast.
But that's not all – we are constantly looking at ways to improve.
So we've had a brainstorm and current thoughts include:
Letting people choose their country, and automatically pulling in regional search information such as counties or states
Picking the best available domains – of any extension – and sticking them up the top in a Best Picks box
Improving the search so it second-guesses where you are going and gets there before you
Doing a mash-up with Google Maps data or Maxmind's GeoIP tools
Here's where we want to hear from you.
What do you think of the service?
What do you think of the ideas above?
Do you have any ideas of your own that you think would make Dropped.ie better?
If so, now's the time to speak up.
Just add a comment below or email us at marketing@blacknight.com and we'll check it out and, where possible, incorporate it.
So please check out Dropped.ie and get back to us with ways to improve it.