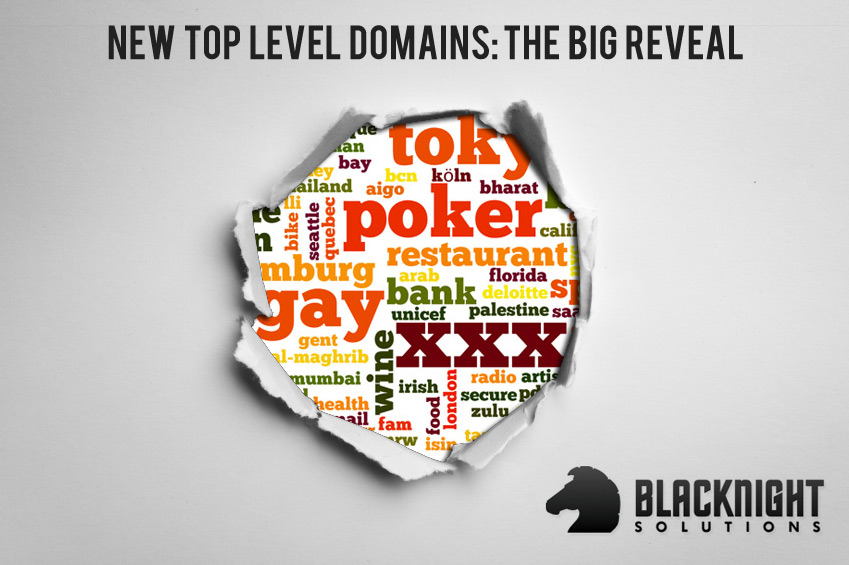 Tomorrow afternoon we'll finally find out who has applied for what in the new TLD space. I'll be watching the event's live stream from my office 🙂
Here's the press release we've put out on the subject:
June 12, 2012- Carlow, Ireland – New top level domains (TLDs) are coming, and on Wednesday, June 13, 2012 the public will get its first glimpse of the domain name extensions that may be available in 2013. Leading Irish Registrar Blacknight eagerly anticipate the "Big Reveal" of potentially thousands of new domains.

For several years, The International Corporation for Assigned Names and Numbers (ICANN) has been working to "open the Internet up" for a broader range of TLDs (Top-Level domains i.e.: Internet extensions such as .com, .net, .org). Anyone with the technical proficiency and financial capacity to operate a TLD was invited to submit an application. The response was overwhelmingly positive with ICANN receiving over 1,900 applications.

On June 13, 2012, dubbed "Reveal Day" by ICANN, the identities of the 1,900 applicants and possible TLDs will be announced in London, England at 12.00.

Michele Neylon of Blacknight (http://www.blacknight.com/) explains:" This process has been underway for years. As a registrar, this is a very exciting time and we are on pins and needles waiting for the reveal. An avalanche of New TLDs will change the way we use the Internet as well as how we use search. While the big reveal still won't tell us which TLDs will definitely make it to use, it will show us the range of possibilities and inspire future applicants."

While we don't yet know the entirety of which TLDs have been applied for, we do know some will cater for specific industries, communities, languages and locations. We have also had a bit of a "sneak peak" as to what we can expect considering applicants for TLDs such as .canon, .music and .nyc have been very open about their plans.

As to whether new TLDs will replace existing extensions, Neylon stresses: "This is an expansion, it is not a replacement. Existing extensions will not be affected."

The "Big Reveal" will take place at Kings Place in London. The event will also be streaming live at http://www.icann.org.

For more information on new TLDs, please visit http://newgtlds.icann.org/en/

For more information on registering and hosting domains at Blacknight please visit http://www.blacknight.com

About Blacknight:
Blacknight are an Irish based, ICANN accredited domain registrar and hosting company. Recipients of several awards for their revolutionary use of social media, Blacknight are one of Europe's most cutting edge Internet companies. Blacknight constantly seek to lead the way by introducing innovative solutions for its client base and provide dedicated servers and colocation as well as a comprehensive range of Microsoft Windows and Linux based hosting plans and domain name registration services to business globally.