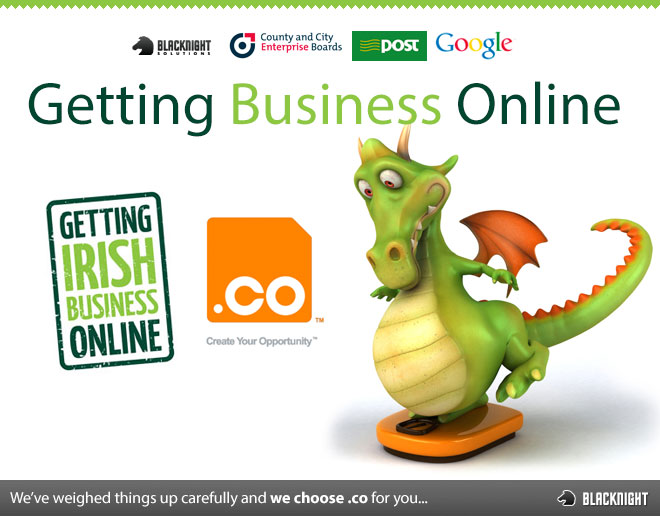 I love it when a plan comes together!
Over the past few weeks (and months) our team has been working on making some changes and enhancements to the Getting Business Online in order to improve the service for everyone. Some of the changes are subtle, yet important, while others are pretty big.
Today we are delighted to announce that we are now offering .co domain names for free (for the first year) via the service. Blacknight is one of the very small number of companies worldwide that is accredited directly for .co domain names!
Here's the release:
Blacknight Announce Free .CO Domains for Getting Business Online.

October 1, 2012 – Carlow, Ireland – Blacknight are giving Getting Business Online participants a leg up on the competition with free .CO domains.

Internet pioneers Blacknight in conjunction with Google, An Post and the County & City Enterprise Boards have been host to the Getting Business Online Program; an initiative aimed at helping small Irish businesses develop an Internet presence. The program provides the opportunity to create free websites for small businesses and local service providers to expand their reach outside of the immediate community.

Blacknight provides free domain name registrations for one year to program participants (as well as software to quickly and painlessly build a starter website) and are proud to announce the addition of .CO domains. CO has become the popular alternative to .COM for startups and businesses that want a short, memorable domain name.

Michele Neylon of Blacknight states: "We are delighted to partner with the .CO registry and offer Irish business short memorable domain names without any extra bureaucracy. .CO has established itself as the "go to" domain name for startups and business worldwide so offering these free to Irish business is the natural evolution of the program."

While .CO has been added to the list of domain extensions available for free registration, Blacknight have announced that .IE domains will no longer be available through the program. However, .IE domains remain available for registration from Blacknight for an annual fee of €19.99.

Neylon explains: "We want to offer our clients a global solution and give them every advantage we can provide. When we re-evaluated the program to look for ways to be even more helpful to small Irish businesses, adding .CO domains was a no-brainer. Unfortunately, while we may be the market leader for .IE, we feel that the restrictions on the domain impose too many restraints to benefit program participants."

The Getting Business Online program launched on May 9, 2011 and has already attracted thousands of users. To learn more about the program, visit http://www.gettingbusinessonline.ie/