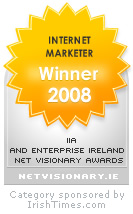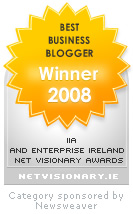 I am humbled. Deeply humbled.
Anyone who knows me would find the idea of me being left "stuck for words" as being a very odd idea – it normally does not happen.
However the IIA Net Visionary Awards left me more than a bit stuck for words.
To be shortlisted in 3 categories this year was pretty amazing, but I was totally blown away when I won not one, but two awards on the night.
Thanks to everyone who voted for me, everyone who has helped both me and the company over the last few years and of course a big thanks to the event organisers and sponsors (Newsweaver and IrishTimes.com). Also a really big thanks to Colm and the gang in Realex for acting as our hosts on the evening.
I am still more than a bit lost for words.