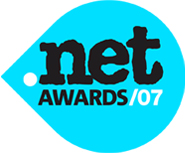 We're happy to be sponsoring the .net Magazine Awards 2007. The awards, which have 16 categories, have been running for several years and attract quite a bit of interest internationally.
We had a choice to make when it came to the sponsorship and it wasn't an easy one. Which category did we want to be associated with?
In the end I had to follow my heart and go with "Standards Champion", which is described as being awarded for:
the best use of accessible design in 2007. Nominees will be judged on standards compliance, originality, and downright sexiness.
I've always been a fan of web standards, as they make life easier for all parties concerned.
While it may be difficult to be 100% standards compliant 100% of the time, there's no reason why a website cannot aspire to standards compliance all of the time.
There's a subtle, but important, difference here. If you give it your best then you can feel satisfied that you have made an honest effort to reach out to as many web users as possible. (Why do you think we use text based captcha on our company sites?)
The full list of categories are (in no particular order):
New site of the year – the people's choice
Web app of the year
Best socially powered site
Best mashup
Interactive Award – the best use of Flash
Blog of the year
Podcast of the year
Design agency of the year
The innovation award
Web personality of the year
Viral campaign of the year
Standards champion
The open source award
Redesign of the year
Infamy Award
Mobile site of the year
Who is judging it?
Well Future Publishing are the event organisers (they own .net magazine), so they have a lot of clout and this is reflected in the calibre of the judging panel
We'll publish more information on the awards as and when we receive them.
So get voting!