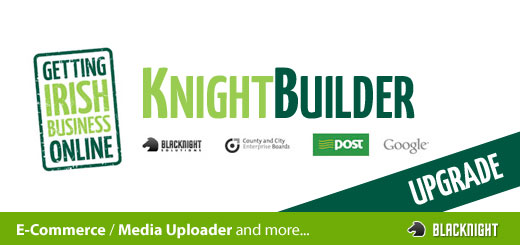 Last week saw us making a pretty major upgrade to KnightBuilder for the Getting Irish Business Online Project.
So rather than boring you with major technical details I'll just dive right into the guts of what has changed.
1: The "about us" page and "News" pages have changed. They are now considered as Extra Pages within the system. If you don't want them feel free to delete them. Want to rename them to something else you're free to. So "About Us" can become "About The Company" if you wish and you can even update the URL from about-us.html to about-the-company.html if you want
2: The Extra pages now have a number of extra features (You can have 12 extra pages in total). You're able to turn on and off the sidebar. You can hide the pages from appearing in the menus. You can also change the order of the pages should you so wish. You get a number of Extras such as Meta Keywords and Meta Descriptions for the pages as well. While Google may choose to ignore these it still doesn't hurt to fill them out. Your pages now make use of the Page Title tag and in most cases this will become the h1 (main header) element for your page (generally good for SEO)
3: Site Title should now be available from your homepage and this is your "Title" across all pages on the site. You can have a custom h1 (main header) tag for your home page not to mention you can include your keywords and description meta tags for the homepage.
4: The first of the big additions with this upgrade is of the addition of a "Media Uploader". This means you can upload images directly to your site and include them from there.
5: The second of the major upgrades is the E-Commerce feature. This lets you add 20 products you can link to product images.
Include Paypal code for purchase and by turning on various options let your customers know how you accept payment.
We've also included an An Post postage rates calculator so you can include costs for shipping to all your destinations.