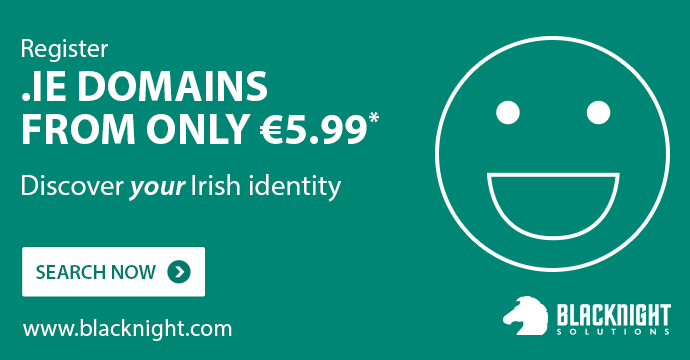 At Blacknight, we always encourage  SMEs to have an online presence. Not only do we think its really important, we have the data to back it up! Research carried out earlier this year (by Ignite Research, on behalf of  the IEDR) shows  just how important it is for Irish businesses to be online.
Here is just one example; 80% of Irish consumers go online when looking for information about a business.
To make this super easy and affordable, we're offering a big discount on .IE domain name registration when you buy hosting for a year. Choose from one of our hosting plans for one year and get your .IE domain registration for only €5.99 (ex-VAT). There is no need for any discount codes etc., simply add both your domain name and your hosting package to the cart and the discount will be automatically applied!
Its as simple as  1, 2, 3 . . .
Step 1: Domain Name (e.g. blacknight.ie)
First things first, you need a domain name. In other words this means you need to register (purchase) 'yourbusinessname.ie'. Before you purchase your domain name, you will need to check to make sure the domain name you want is available (another person may already have the domain name you want registered).
If you're an Irish business then a .ie domain name is the obvious choice for your online identity.
And getting a IE domain name isn't hard.
All we need is your business or company number and possibly a short email explaining why you'd like a specific domain name. If you're a blogger or hobbyist then you can also get a IE domain name easily if you provide us with a utility bill or photo ID. Our Sales Team are always available to give a helping hand!

Step 2: Hosting
For your website to go live, it will need to be hosted. Basically, it will need somewhere to 'live', which will be on a server. Our data centres are located in Carlow and Dublin, so you know that your data is secure. We offer a wide range of hosting solutions, starting with our shared hosting which is perfect for someone starting out. With monthly packages starting from €4.95  a month, and one click WordPress install there is really no excuse!
Step 3: Email
Now that you have a domain name, and hosting – don't forget to set up your professional email. A custom email adds professionalism to your business. It says who you are, and helps to build your brand. Even if you are a one person business, you can set up a few different emails for various departments, such as info@ accounts@ or sales@
Think about it;  which would you prefer to give someone a generic gmail email address for example, or sales@yourbusiness.ie. The answer is simple really!
As we mentioned above – to get your .IE domain name for €5.99, you need to bundle that with one of our hosting packages. With our competitively priced hosting plans you can easily get your business online.