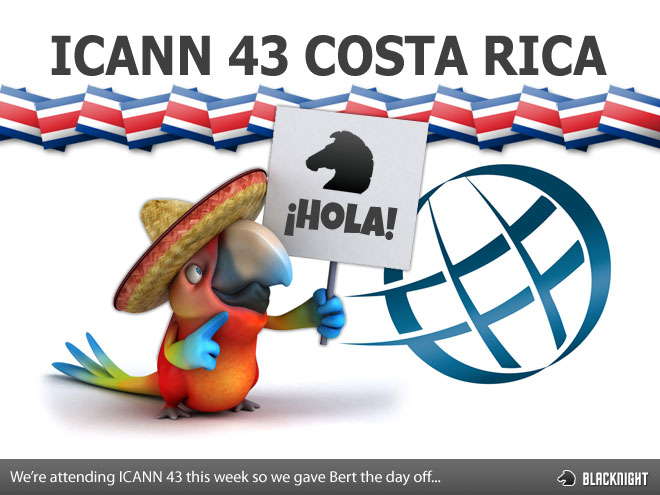 ICANN 43 is taking place next week in Costa Rica and we'll be there.
Due to miscalculations on my side I ended up getting here last night. I'll be giving a talk on social media for country code managers later this afternoon as part of the Taller de Aspectos Económicos (Workshop on Economic Aspects) for LACTLD, which is the umbrella organisation for Latin American and Caribbean country code managers.
So what's on the menu for this meeting?
Apart from the LACTLD event, which is a great opportunity to learn about the different Latin American country codes and how they do business.
The ICANN meeting itself is going to be incredibly busy.
With the registrar accreditation contract currently under negotiation you can expect to see quite a lot of the timetable taken up with the topic or associated topics. The registrars and ICANN staff published an update a few days ago with the current "state of play".
Why is this important?
The contract governs how domain names are sold by companies such as ourselves. If we, as a community, are not careful about how we get the balance right then there is a real danger that domain names could become significantly more expensive and thus widen the digital divide.
Other topics that will be under discussion:
Whois – there's talk about replacing it .. there's also the ongoing "review"
Domain transfers – some possible changes to how they're handled are being discussed
New TLDs – there'll be a lot of talk around this
Applicant support – related to new TLDs
Domain takedowns – with the number of takedowns and seizures from the US government this is a very hot topic
DNSSEC
If you want to see the full schedule and have more information about a particular session you can grab it here
Most of the sessions will have audio or video feeds available and public participation is actively encouraged.
What's in it for us?
As a registrar we have a contract with ICANN (the RAA) so any potential changes to this contract will have a real impact on our dealings with you, our customers.
A lot of the discussions and debates surrounding things like online crime, copyright etc., that are going on in various countries (including Ireland) will be held at ICANN. It's key that we can provide our own perspective and give our voice to the discussion – getting the balance right is key (as I've said often in the past)
It's going to be a very busy week, but hopefully productive!
Related articles