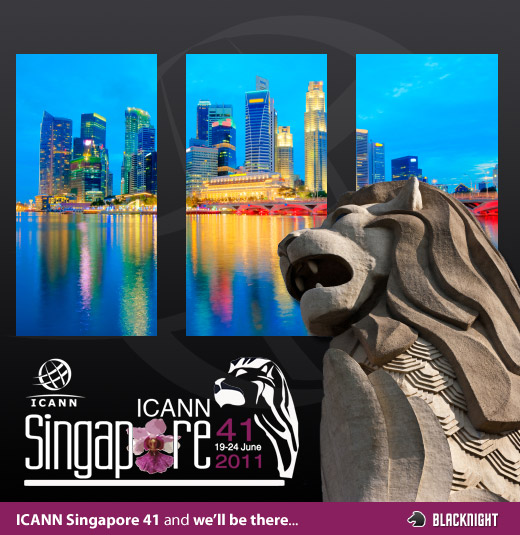 Later today I'll be starting my journey to the 41st public ICANN meeting which is being held in Singapore.
As usual the official meeting doesn't start until Monday, but the timetable for the weekend is pretty full!
I'll be speaking on several panels and sessions throughout the week on a range of topics ranging from domain transfers to IPv6 to DNSSEC, starting with the GNSO council on Sunday.
As the only ICANN accredited registrar based in Ireland it's pretty important for us as a company to keep involved with ICANN.
While some of the squabbles and debates might seem to be interminably boring there are plenty of topics that have a direct impact on our business and our customers.
So what's on the menu for Singapore?
New TLDs – ICANN's board of directors will be having a special meeting on June 20th in Singapore. At the last meeting (San Francisco) the chairman of the board set expectations for the announcement of the launch. Will that happen? Or will it be delayed again?
It's hard to say. New TLDs would mean that there could be a lot more choice available for consumers. However giving consumers (and business) new opportunities needs to be balanced with concerns from government, law enforcement, intellectual property concerns and more.
UDRP – Domain disputes. A lot of people feel that the current system for handling domain disputes needs an overhaul. Some people feel that a full overhaul is probably not necessary, but that a "tweak" would be a good idea. Others, including those who gain the most from not changing anything, are strongly opposed to making any changes. If the new TLDs are launched next week the entire issue of how disputes are handled is going to become even more important, as intellectual property rights advocates worry about these things .. and they have deep pockets ..
Law Enforcement – Up until a few weeks ago it wasn't very clear what their relationship with ICANN was. Sure a few of them would turn up at public meetings, but there was nothing formal about their relationship and there was no way of knowing if they'd be able to attend. Now that has changed with Interpol getting "observer" status with the GAC (governments). Why is this so important? Cybercrime is a big issue. While registrars and registries may work to combat it there are so many different national laws and ways of doing things in play that there are issues. If law enforcement can engage in dialogue then progress can be made towards a safer internet for everyone without causing huge disruption to how business is done.
WHOIS – Always a "fun" topic. There will be several sessions centring around WHOIS. Why does it matter? It depends who you ask.
IDNs – Internationalised domains. Basically this is all about using non-ASCII characters in domain names. There are all sorts of topics with this that could make your head melt. For example, just picking one, how do you display data about them in WHOIS? Do you use the native script (it might not display) or do you use punycode? There's a lot more to it than that, but it's fascinating topic.
ICANN's Budget. ICANN has mushroomed. It's now got over 100 people working for it spread across the globe. Its annual budget is in 8 figures! While some of this money is obviously needed and is being spent well it's only natural that people would question how the monies are divied up. From our perspective it makes quite a difference. Registrars pay fees to ICANN per year plus per domain transaction. The more we have to pay ICANN the more we have to charge our clients ..
Domain transfers, renewals and other policies. Several policy changes have been proposed in relation to domain name transfers, renewals and other matters. The GNSO council, which is part of the ICANN structures (or, as I like to call it, the circus) will be voting on some of these during their meetings next week.
If you want to follow what's going on you can do so here