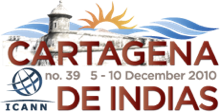 Although it doesn't start officially until Monday morning, the conference centre in Cartagena de las Indias, Colombia, is already buzzing with talk about domains and internet policy.
From now until next Friday Cartagena will play host to the 39th public ICANN meeting and Blacknight, as Ireland's only ICANN accredited registrar, is attending and participating.
The week should be quite interesting, as the new TLD (top level domains ie. the bit on the right of the dot) project is either going to move forward with a clear and decisive timeline, or be completely derailed by the US government's latest missive.
Other debacles that have been dragging on for what may feel like aeons may also finally be "put to bed". One such topic is the launch of .xxx, a move that we strongly support. While the registry operator, ICM, may have hoped to be in a position to launch at Cartagena they may now be close to getting a final contract from ICANN if they can satisfy the world's governments.
I've already given a short update to the GNSO and will be speaking to the CCNSO during the week.
It looks like the week will be very interesting and lively with delegates hailing from the four corners of the globe.