We've teamed up with ShortDot, the .ICU registry, to give you a step by step guide on launching a business globally so you can start maximising your sales. Starting a global business is exciting, but there can be challenges. Nonetheless, it's a great way to grow your business and diversify.
Step 1: Do Your Research
Thorough market research is essential before embarking on any global business expansion. You'll need to understand your target market, barriers to entry and growth potential of this market. This will help you determine the demand for your product or service in various locations and will help you find the best way to enter this market. You'll also need to look at your competition to see how your offerings can stand out from what's already available.
Next, examine the cultural norms, values and legal frameworks of the countries that your target market is in. There may also be some tax requirements and online regulations that you'll need to be aware of. Lastly, check what language is spoken in that area as you may need to create another version of your website that is in the vernacular.
Step 2: Create a Business Plan
A business plan serves as a roadmap for your global expansion. Identify your goals, market entry strategies, financial estimations, and a risk management plan. These elements should help you plan what your opportunities are and identify what can go wrong. It's important to figure out how you can overcome these challenges before you start your business so if things to go wrong, you're already prepared.
Step 3: Grow Your Global Network
Building your network over time can give you the advantage of finding more affordable resources and access to other markets that your network can provide insights about. Social media and networking events are great tools to help you engage in conversations.
Step 4: Build Your Online Business
Now that you've identified your goals, financial opportunities, cultural norms within each area, and established your network, it's time to build your online business. Get started with the globally recognised .ICU domain extension (which stands for "I See You"). It provides an ideal opportunity to construct a unique online presence that reflects your global goals. Registering a .ICU domain name can help you separate your company from competitors and attract the attention of potential visitors worldwide. With a domain name, you can attach a professional email address and create your website which can be reached by customers around the world.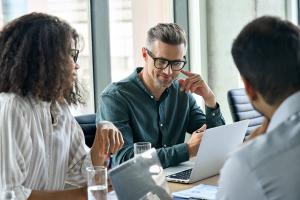 Step 5: Begin Your Marketing
Marketing is key to promoting your business. Ensure that you create a global marketing strategy, use digital channels like social media, and monitor the effectiveness of any marketing or advertising you engage in. Online advertising is a great way to get your business out there. An easy way to brand and market your global business is by using your .ICU domain name in your email marketing and advertising.
So, now that you know how to launch your business globally, there's no better time to get started. Register your .ICU domain name today and get your business out there so you can grow your sales.