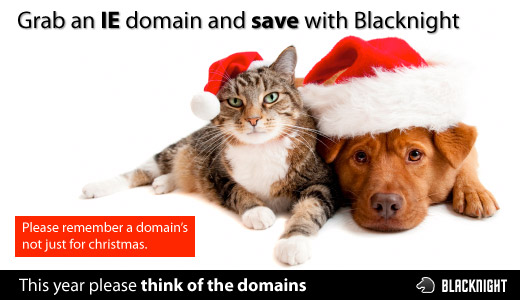 Christmas is coming that little bit earlier this year.
From now until December 31st 2009 we have dropped the price on IE domain registrations and transfers to €16.95 / year. (The discount will appear in the cart, so no coupon codes required)
You can register a .ie domain name for 1 to 10 years – your choice.
You don't need to host with us to get the pricing
You can order as many domains as you like
ALL domains get free DNS services, so if you want to point the domain at an existing site, IP address, Google Apps or whatever you like, you can do that too at no extra cost. (Check out our video tutorials on managing DNS etc.)
Not sure what to nab?
Why not take a look at some of the "previously owned" IE domains on our new dropped IE domain site?
You can search for domains by first letter, length or keyword, or if you want you can simply get a completely random selection.
With less than 150 thousand IE domains currently registered there are still plenty of "category killer" generic domains available.
Why settle for a stupidly long domain name when you can get something short and memorable?
NB:
All IE domain registrations are subject to the IE Domain Registry's rules.
As the IE Domain Registry will be closing over Christmas domains ordered after December 22nd will probably not "go live" until early 2010.
Not interested in registering a .ie domain name?
Then why not check out some of our other domain name registration offers?