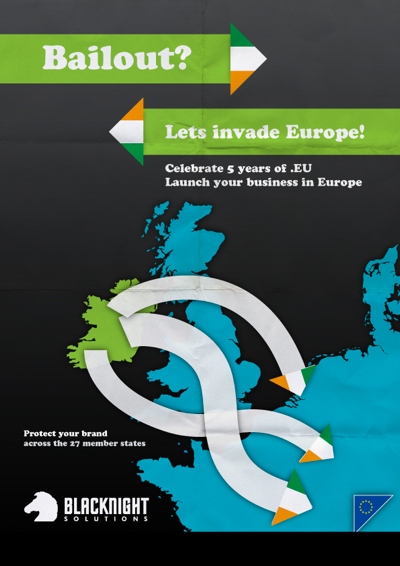 .eu multi-year registrations and renewals are available as of this morning. Here's our press release:
April 7 2011 – Carlow, Ireland – Multi-year registrations are now available for .EU domains and Blacknight Solutions is celebrating.
Michele Neylon of the Carlow based registrar wants you to know that " Blacknight will be offering a number of .EU incentives for new and existing customers throughout April and May 2011. We will also be offering discounts on 10 year registrations."
Launched in 2006, .EU, the country code domain for the European Union now has registrations in the millions. As the Internet continues to grow at rapid speed, many businesses have found great success by looking beyond .com to brand their services. Only registrants located within the European Union are able to register a .EU domain making your domain even more unique.
Neylon explains, " We are strong believers in .EU. In an economic downturn, more people are doing business online and it can be difficult to find an easily brandable name in .com"
As the pros know, one of the best tools for domain protection and maintenance is the ability to register your domain name for as long a time as possible. Multi-year registrations save time, money and provide peace of mind that your domains are secure into the future.
According the .EU Registry, "Upon registration of a .eu domain name, you will be able to specify a registration term of one to ten years. The domain name's expiry date will still fall on the last day of the month in which it was registered (plus the number of years you specify as a registration term). If it expires, the domain name will be automatically renewed for one year. During the registration period, you can extend the registration term at any time, provided that the new registration term does not exceed the maximum registration period of 10 years"
Between multi-year registrations and Blacknight Solutions' discounts, .EU domains are too good to pass up. Secure your domains for up to 10 years by registering a .EU domain today at www.Blacknight.com