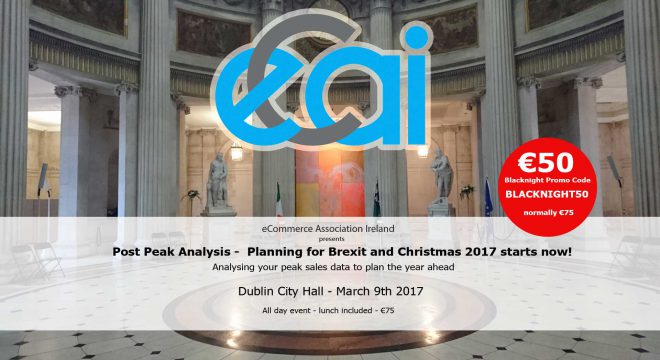 It's never too early to plan for Christmas. For business people, it's vital. In fact, the best time to plan for peak-time is when the memories and data are fresh from the previous peak! That's why the Ecommerce Association of Ireland is holding an extraordinary day of practical discussion on planning for peak, and what might happen with Brexit.
It's on 9 March 2017 in Dublin's City Hall, and costs just €50 (including lunch) if you use the special Blacknight promo code BLACKNIGHT50 when booking.
The organisers have lined up an impressive array of speakers, including keynotes by Richard Moyles (Head of eCommerce for DID Electrical) and Matt Clarke (Commercial Director at Nielsen) who will share first hand experiences of their planning processes. Economist Susan Hayes Culleton will give a talk about using Europe's business networks.
One such network is the Enterprise Europe Network, who will give an introductory presentation at the event.
Probably the most anticipated session of the day will be the expert discussion tables which are the main feature of the morning session. There will be a total of eight tables, each devoted to a different topic and led by an expert in that field. Participants are encouraged to jump from table to table, join in the discussions and ask eCommerce questions pertinent to their business.
The expert table leaders are, as follows:
Law – Fred Logue
Logistics – Rory O'Connor
User Experience – Ultan Sharkey
Payments – Russell Burke
Marketing – Brendan Almack
Platforms – Declan Farrelly
Export – Aishling Tobin
eCom Operations – Alan Chester
The day's events conclude with an expert panel discussion on Post Peak Analysis and Planning for Brexit.
Richard Moyles will participate in this also, and he will be joined by Patrick Sherlock, Co-Founder & Chief Product Officer at Luzern Technology, Gilles Ferrandez, Head of International Sales & Relations at An Post, and Maurits Bruggink, Secretary General, European eCommerce and Omni Channel Trade Association (EMOTA).
Tickets are listed at €75 – but not if  you use our discount code to get €25 off! Remember, it's BLACKNIGHT50!