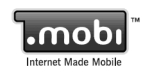 Starting Monday 10th September 2007 we'll be running a special promotion on new dotmobi domain registrations.
I've mentioned dotmobi in the past.
It's the domain for the mobile web.
Forget about WAP – think of browsing and using the internet and online services on your mobile device – be that a Nokia tablet, an n95 or even on an iphone.
It doesn't have to be a painful experience!
In any case we'll provide more details of the offer on Sunday night / Monday morning.