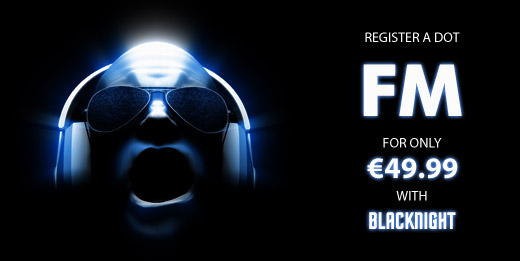 Apologies for the slightly cheesy post title, but it was really hard to resist!
Some domains are just plain cool and useful.
When you see a .fm (dotFM) domain you think "radio" or "music" or just plain "audio".
If you were going to be launching a podcast or music service, then .fm would be the obvious choice.
Notable users of .fm include the likes of last.fm, webmasterradio.fm and services like Blip.fm
So we're delighted to be able to do something special with the .fm domain pricing.
We've done a couple of things.
First off we've cut the price – and not by couple of euro – we've halved it!
We were charging 99 euro for a one year registration, but we're now offering a .fm domain registration for 49 euro (ex-VAT) – that's roughly US$72
Secondly, we're now offering .fm registrations for up to 5 years.
If you're a WordPress user Podpress seems to be a popular choice for handling podcasts, while MovableType users can use the application's builtin support.
Of course if you're planning on starting a podcast then you'll need some hosting to do with your nice shiny new domain, so why not check out our Minimus hosting plan?
It's the perfect plan for anyone starting a podcast site, as it gives you both the space and the bandwidth you'll need. (remember, all those audio files will need plenty of space over time)
So what are you waiting for?
You can simply search for an available .fm domain name from any page on our site or using the search box up the top right of this site.
Find a domain you like, add it to your cart and you'll be up and running in a matter of minutes.
Check out our other insane prices on domain names here