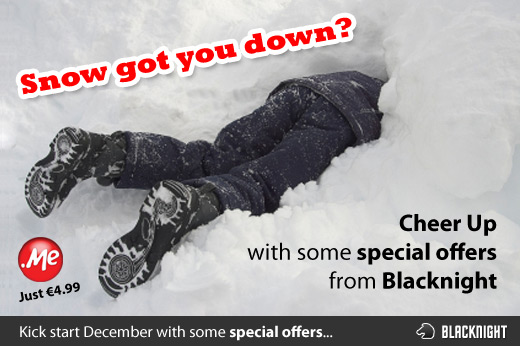 Over the past couple of days Ireland and a lot of Europe has been hit with a "cold snap". From the reports we've received (and by looking out my office window) it's pretty clear that there is a lot of snow and ice out there!
Anyway it's ideal weather for staying indoors with a nice warm fire and a computer, isn't it?
So why not take advantage of some of our special offers?
We have a number of current offers that do not require any special coupon codes, including .me domain names for only €4.99 for the first year. If you need some inspiration why not check out our personal .me domain site? The .me domain names is the solution for getting your own personal brand!
But we know you're all cold out there, so here's a special discount code to help keep you warm:
Use coupon code: snowflake
And get:
1 year .ie domain name registration only €11.99
1 year .be domain name registration only €2.99
As usual pricing is ex-VAT. No coupon code = no discount.
Code is valid until this Friday
Check out all our other amazing offers on hosting and domains
And keep warm!