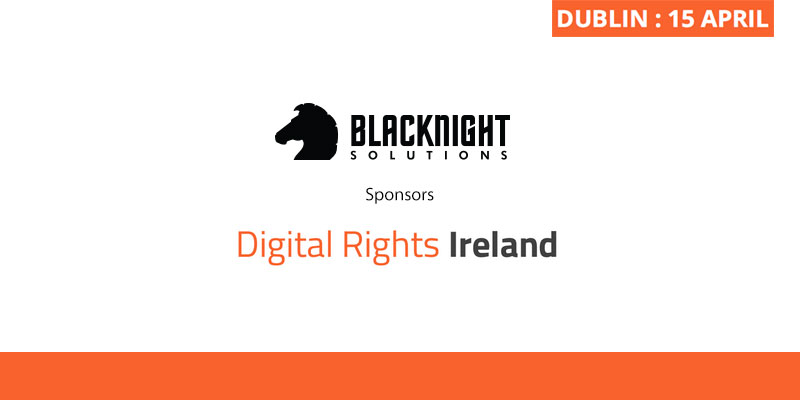 Blacknight to Sponsor Digital Rights Europe 2015 Conference

The Irish registrar and hosting company are also offering 50% off ticket prices

March 31, 2015 – Carlow, Ireland – Blacknight, Ireland's leading domain registrar and hosting company have been announced as the platinum sponsor for the 2015 Digital Rights Europe conference.

Digital Rights Europe is a one-day conference to be held April 15, 2015 at the Grand Canal Hotel in Dublin. The conference was created to educate and raise awareness of Digital Rights throughout Europe. A variety of topics will be covered from drones to data protection to ethics and will give attendees a strong overview on the most pressing digital rights issues that affect European Internet users.

The conference will be opened by Dara Murphy TD, last year appointed as Minister for Data Protection, the first such appointment in Europe. Conference organisers say the appointment highlights Ireland's central role in digital policy and protections across Europe and internationally.

The conference will also feature a flying visit from a DJI Phantom Drone as part of the day's line-up. "Eyes-in-the-Sky: Drones, Data and Privacy" is one of a dozen talks scheduled for the inaugural conference organised by Ireland's leading digital rights advocacy group, Digital Rights Ireland.

Blacknight is the Platinum sponsor, and the conference will feature the Blacknight Recharge Lounge, the breakout area for recharging delegates and mobile devices.

Blacknight CEO Michele Neylon, who is very active in the European Digital Rights Community, is particularly pleased to be sponsoring this event. "Not enough Internet users are familiar with their digital rights, particularly those that apply in-country. Users often blindly sign terms use agreements, particularly for free services like Facebook and Google, which violate local and European law. We are pleased to be the platinum sponsor of the Digital Rights Europe conference and to help spread awareness of these important issues."

Blacknight is also offering a discount code for 50% off ticket prices. Attendees may enter the code: DRIBK  at checkout to activate the discount.

Tickets can be purchased online at https://www.digitalrights.ie/conference/ at €130 per delegate with parking and lunch included. Legal professionals seeking written CPD certification for attendance can purchase tickets for €175.