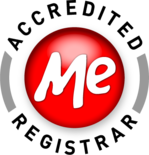 We're delighted to announce that our .me accreditation is now "live". We had been offering .me domains via one of our partners up until earlier this afternoon.
DotMe (.me) is the country code domain for Montenegro. Of course, if your native language is English, "me" also spells the most important word in the English language – "me".
I'd been feeling a bit guilty about .me for quite some time, as I was at their launch reception in Paris over a year ago!
All new .me domain names registered via our website will be handled by our own .me accreditation ie. we won't be relying on any 3rd parties …
What does that mean for you?
In practical terms – not a huge lot.
However it means that we will be able to pass on any savings we get from the registry.
It also means that we have a greater level of control over aspects of the domain name and don't have to rely on a 3rd party, which is important to us.
Just a word of warning – expect more of these announcements over the next few days, as we roll out several domain extensions onto our own registrar backend!