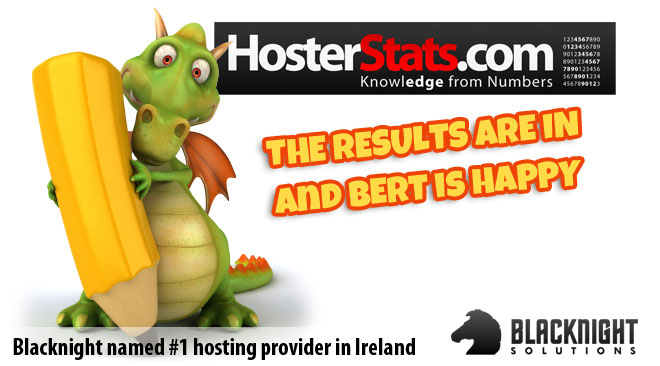 We pushed out this press release yesterday morning, though, as I was on the road all day yesterday, we didn't get a chance to post about it here.
Here it is:
Blacknight is Named Irelands Number One Hosting Provider – Blacknight Leads the Irish Market for the Third Year in a Row
Blacknight has been named the leading webhosting company in Ireland for the 3rd year in a row by Hosterstats.com.
The registrar and hosting company which has long been known for its innovation in the domain space and devotion to the Irish market is leading the pack on domain hosting. Serving 27% of the Irish market, Blacknight is number one in hosting for the .com, .net, .org, .info, .ie, .asia and .mobi extensions.
Blacknight is also the largest Eurid registrar, and the only Irish ICANN accredited registrar. According to hosterstats.com " The fastest growing Internet extensions on Irish hosters are .Com, .IE and .UK."
Michele Neylon of Blacknight explains the company's success: "We are the leading hosting company in Ireland because we are incredibly passionate about what we do. We love the Irish market and are committed to providing the best, newest and most innovative hosting products and platforms available. It also doesn't hurt that we are reasonably priced."
Blacknight isn't resting on its laurels; the hosting provider is constantly looking for new ways to improve the hosting experience of their customers.
Neylon continues: "Over the last few months, our technical team have been working on a number of new services, including "no fluff" cloud hosting. Hosting, and cloud hosting in particular is an evolving service for us. We are always looking for ways to deliver an even more exciting product."
Blacknight's latest hosting product, Cloud Hosting, utilises cloud based, virtual servers. Cloud Hosting offers options to suit even the most demanding needs and opportunity to wield complete control as well as the ability to back up, restore, reboot in seconds with one click.
Visit http://www.blacknight.com to learn more about Blacknight's number one hosting services.