Blacknight has been working on something amazing behind the scenes, and at last, we're finally ready to start lifting the lid on what's coming to Blacknight – first for new customers and then existing customers in the coming months.
First, DON'T PANIC.
The big takeaway before we get a little more granular, Blacknight is moving to a new, more modern hosting platform and email service. It's better in every way than our current offering. It will be rolled out for new customers first, and then over the coming months, existing Blacknight customers will be transitioned to the new platform.
Based on customer feedback and industry best practices, we've developed a more modern user interface, have re-invested in our overall user experience, giving you more options as a customer. Our old system was proprietary and difficult to customise and to advance with modern tools. The new system will be more flexible, have more options, meet your needs that we haven't been able to before.
I hesitate to overuse hyperbole here, but pretty much everything about your Blacknight experience will be getting better.
As of today, you don't have to do anything; we just want to make you aware of what's happening.
A New Hosting Platform With New Plans
We've heard your concerns, and we've been re-investing in Blacknight to create a new hosting platform that will be all shiny and new and be what you expect from a web host these days. As part of this, there will be an entirely new control panel to work with, as well as new hosting plans that reflect more on how businesses currently use our products.
With a new control panel, we'll have new hosting plans that will feature more storage, more bandwidth, new tools – like an app library – and so much more. Everything will be performance optimised by Blacknight engineers to work as quickly and smoothly as possible. And going forward, all new shared hosting accounts will now be using the Plesk hosting control panel and eventually cPanel (we can hear your cheers!).
For existing customers, nothing will change on your current hosting plan or what you're currently paying – you will be transitioned to the new platform at a later date. You will have to learn the new control panel, but it will be functionally the same – with tons of wonderful new features that Blacknight customers have been asking for (and we will provide plenty of documentation on how to use these new things, and of course our phones and email are at the ready for support questions).
Buying domains and hosting plans and then using those products in your control panel will become much easier and flexible. And finally, something big is coming that customers have been asking for – we will have managed WordPress.org hosting (more details on this in a future announcement).
The New Email Service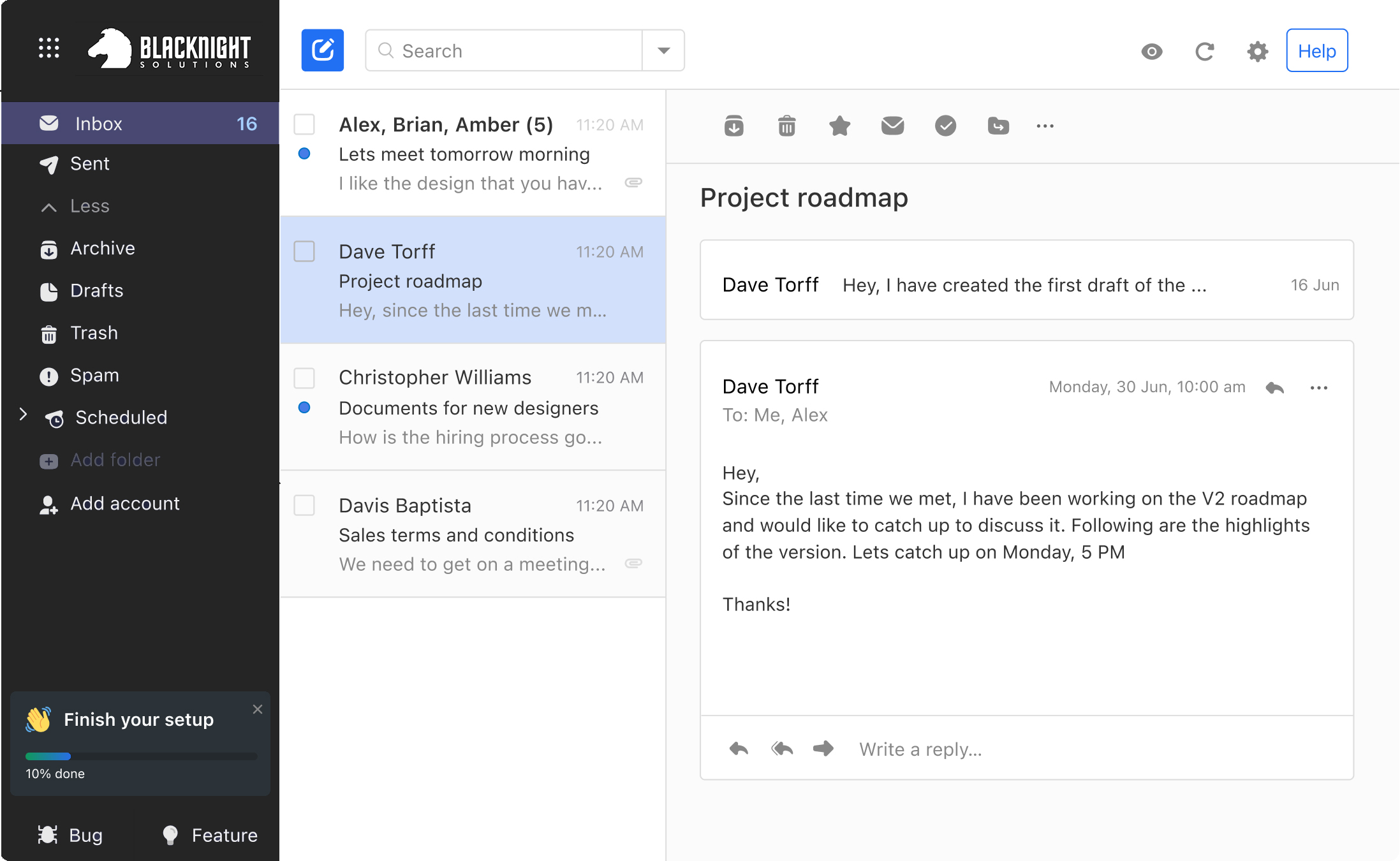 The next big announcement we have is that we're moving to a completely new email platform for our shared hosting customers. Currently, Blacknight hosts its shared hosting webmail internally on our own servers, but this is missing a lot of key features that people expect from a modern email service. So, we've decided to move to Titan Email, a new email service backed by tech titans like Auttomatic (the folks behind WordPress.com) and Flock.
Titan Email by Blacknight will have a shiny new web interface that's simply a joy to use and will have mobile apps as well (and is, of course, compatible with traditional email clients like Outlook, Apple Mail, Thunderbird, etc.). To get the most out of it, though, the webmail will be where exciting new features like scheduled send, read receipts, follow-up reminders, email templates, signatures builders, calendaring, enterprise-grade security, guaranteed email delivery, and so much more. We'll have another post in the future detailing all the exciting new features.
All new Blacknight shared hosting email customers will get access first; then, over the coming weeks and months, we'll be transitioning existing customers to the new service – you will be contacted when it's time so you can be prepared for the change (and update any settings that need to be updated, so nothing breaks for you).
Timeline
Starting in early 2022, all new customers making hosting purchases, email purchases, domain purchases, etc., will be made with the new hosting platform. Then throughout 2022, we'll be transitioning existing Blacknight clients to all the shiny new hardware; when this happens, you will be notified, and we will help you through the process if needed (no need to contact us right now!). Our transition implementation plan will make this as painless as possible for the end-user.
If you purchase something new after the transition begins, you will be directed to create a new user account on the new platform, and that's where you'll manage those new purchases. You will still have access to your old account and be able to manage your previous purchases there until we're able to merge the systems later in 2022. We will give you plenty of warning when this happens.
So, to repeat – nothing changes today for most Blacknight customers, but changes are coming, and when they do, they'll be amazing, and we'll communicate clearly and quickly to make the transition as smooth as possible.