WordPress, the world's most popular publishing platform, is a firm favourite with our customers. And now it's easier than ever for users of our Plesk Onyx control panel.
Plesk Onyx is a web-based control panel for administering physical and virtual (cloud) servers. These systems run Linux or Windows operating systems and offer much more functionality and control than our entry-level web hosting packages. Thanks to Plesk Onyx, that control comes easily without the need for hardcore sysadmin skills.
WordPress is probably the easiest and most powerful blogging and website content management system (or CMS) in existence today.
The WordPress Toolkit is an extension specifically designed for Plesk Onyx.  It's a single point of WordPress management for server administrators, resellers and customers. The Toolkit was created to save time and simplify the lives of WordPress users. It allows web professionals to quickly deploy, install, secure and update several WordPress websites at once.
The one-click installer of WordPress Toolkit does everything from start to finish: downloads WordPress; creates a Database and a Database user account; creates an admin account in WordPress; and initializes WordPress so that it's fully ready to use.
With the toolkit you have full control: cut out all that stress and uncertainty with just one click. You can create a staging site, or clone a site, update a site or even migrate a site. You can enable maintenance mode, debug management, search engine index management and much more.
Smart updates is a new feature of the WordPress Toolkit.
It analyses your WordPress updates and performs them without breaking your site, it will even notify you that the update might be dangerous and provides you with a 'before and after' result (see image below).
Security
The Toolkit also hardens your site by default with its enhanced security scanner, so no expertise is needed. Check the items you wish to harden, click "Secure", and you're done.
You can choose to Singularly or Mass-execute updates to the WordPress Core files, themes or plugins. Remove Plugins and themes in Bulk if they are not needed. Monitor and run all your WordPress sites from one dashboard with ease.
WordPress Toolkit is available free for the owners of Plesk Web Pro and Plesk Web Host editions. Customers can purchase the Plesk Web Admin edition extension separately.
Smart Updates feature requires a separate license.
Two Flavours
There are two editions available as outlined below –
– SE Only (Limited features edition) for up to 10 domains available on Web Admin
– Full Featured Edition for up to 30 domains available on Web Pro & Web Host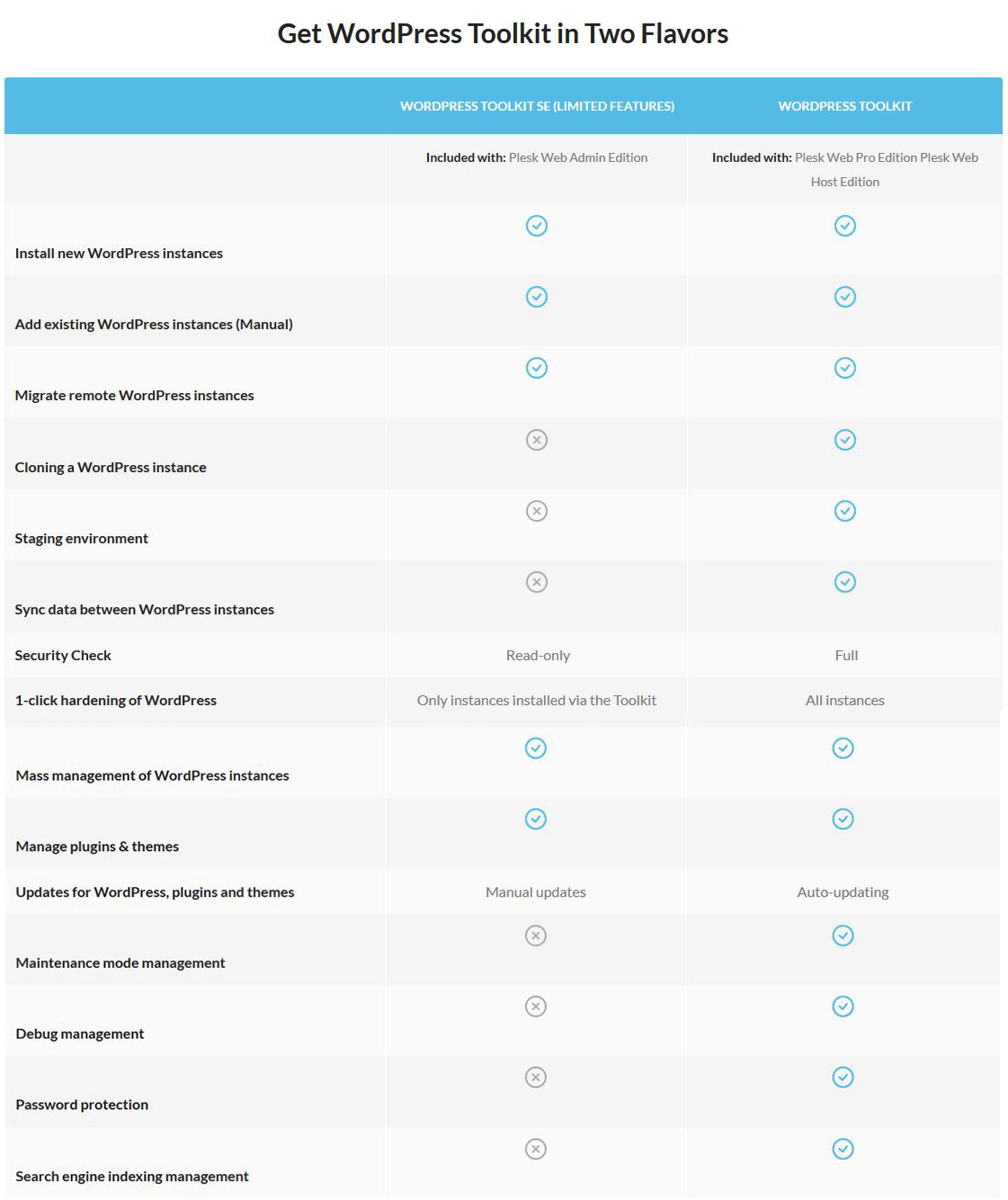 More information: