I've been doing this presentation for a couple of years now: web design as a public performance! To be fair, web development isn't the most entertaining thing to do on a stage, so we add a little element of risk to make it interesting. A challenge! Can I register a brand new domain name, develop a website, publish and have it appear on the audience's phones in less than 20 minutes?
It turns out that the answer is yes, but there is an element of uncertainty. I think some people are attracted by the possibility that I will fail, and I sometimes feel like a high wire circus performer when I declare my intention at the start of each talk. At least the stakes aren't high: it's not a knife-throwing act!
The uncertainty comes from the Domain Name System (DNS) propagation. When you register a new domain name with Blacknight, it takes only a few seconds to register the name and update our nameservers with the IP address of the site. But then the Domain Name System needs to tell all the other DNS servers around the world about your new domain. Depending on how those servers are configured, they may only be refreshed every hour or so, which is why we generally tell customers to allow about 2 hours for a domain name change to fully propagate across the internet.
So, while I can configure my computer to use the Blacknight DNS servers, and always have the up-to-date address for the new name I've registered, there's always a moment of doubt when I ask the audience to check and see if the site has appeared on their phones. If it hasn't, I know that it soon will, but it's especially gratifying when it works during the presentation. So far, it always has.
Of course it's a gimmick, building a website in 20 minutes, but it makes an important point. Not only can you build a functioning website in minutes, but you don't need to know how to code. You can update that website with your social media accounts with a couple of clicks, and take another 2 minutes to set up a professional email address with your new domain name.
Sure it's easy for me to do – but it can be for you as well. Just call us in Carlow and tell us what you need. We'll advise you on our products and plans, and help to set you up over the phone.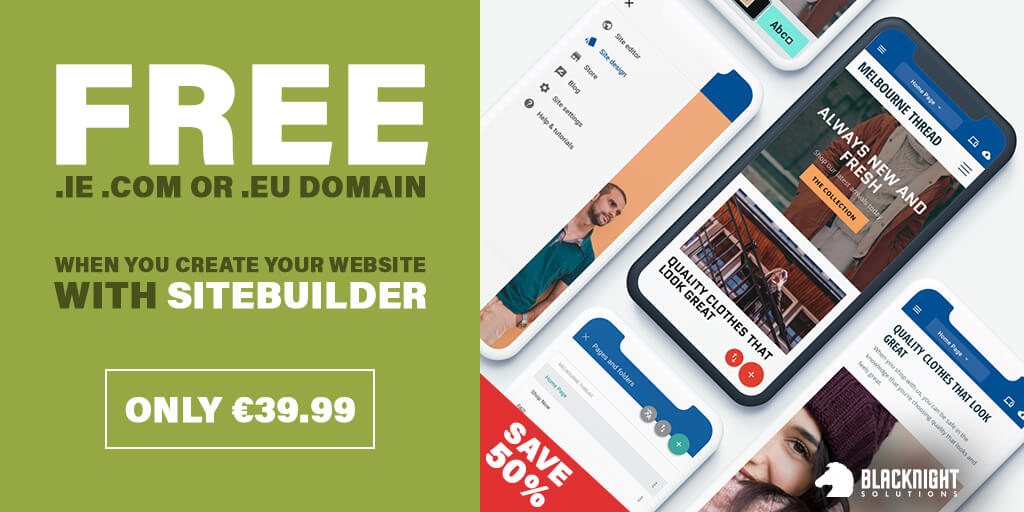 We've just unwrapped the latest version of siteBuilder: and cut the price in half for a limited time only. The basic plan starts at €3.99*/month – or sign up for a year at €39.99* and get a bonus two months, plus your choice of .IE, .COM or .EU for free!
Warning: web development can become addictive. Remember to take breaks and walk around outside. Maybe set a timer to remind you? Twenty minutes should do it!
*All prices exclude VAT