What's it worth to an SME to have a website? The latest Irish research suggests it's €24,000 a year!
The figure comes from a survey conducted by Ignite Research, on behalf of the IE Domain Registry (IEDR).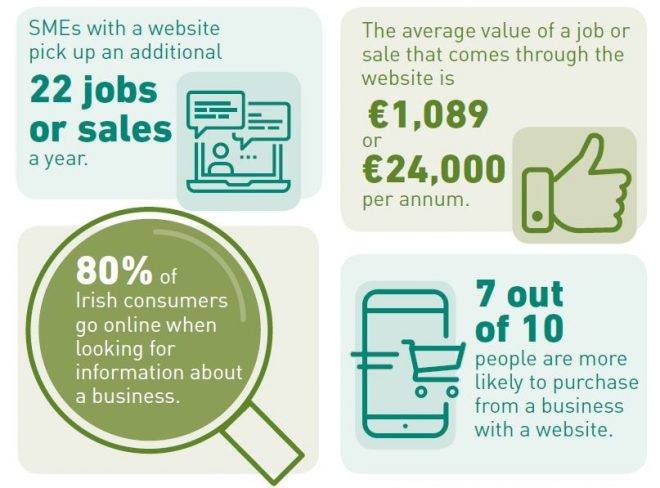 Published today, the report reveals that SMEs with a website receive an average of 22 additional jobs a year, with each worth an average of €1,089. Dublin-based SMEs receive the highest average number of additional jobs (41), followed by the rest of Leinster (16) and Munster (14). Connacht and Ulster receive the fewest (12).
The research also showed that nearly three-quarters of Irish shoppers (71%) are more likely to purchase goods and services from a business that has a website.**
74% said they find it frustrating when a company has no website.
Businesses Without a Website 'Outdated'
In addition, the report finds that:
Nearly two-thirds (65%) of consumers want the ability to browse and research their local business's products and services online
83% believe SMEs should have a basic website with contact details and opening hours
68% believe a business is 'outdated' if it doesn't have a website
60% say they would shop with a competitor if they couldn't find their preferred retailer online
Commenting on the findings, David Curtin, Chief Executive of IEDR, said: "For SMEs, having even a basic website is an integral part of doing business in the twenty-first century. The benefits are clear: SMEs with a website stand to receive more work and make more money than their offline counterparts. Being online means businesses can reach out to more customers, understand them better, sell more products and expand into new markets."
"Nowadays, selling online is a straightforward process thanks to a myriad of inexpensive, easy-to-use tools. With e-commerce, Ireland's SMEs have access to their chosen market of potential customers 24/7, 365 days a week. This trade is worth billions to our economy and is set to grow substantially as more people and businesses go online for the first time."

"If you're not online, your business is effectively invisible. Our research has shown that 80 percent of Irish consumers go online to search for information about businesses. If you don't have a presence on the web, you're missing out on a huge number of potential customers."
Next month, IEDR will publish the latest edition of its dot-IE Digital Health Index, a biannual report which measures the 'health' of Irish SMEs' digital assets, like websites, social media and e-commerce capabilities.
* Research based on a survey of 500 Irish SMEs conducted by Ignite Research in March 2017. The number of jobs and values are based on the responses of 133 companies that receive jobs or sales through a professional business website. Value is calculated by working out the median figure SMEs with a website said that they receive per job/sale (on average) from their website and multiplying it by the number of extra jobs they are receiving as a result of having a website.
** Consumer research based on a survey of 1,000 Irish consumers by Ignite Research in March 2017.