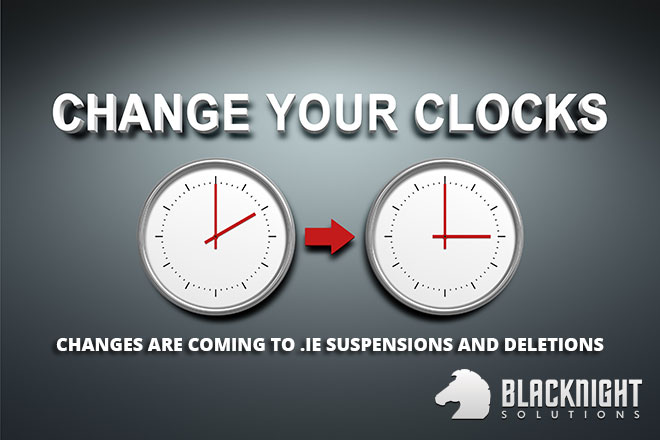 In a couple of weeks' time the IEDR will be rolling out some changes to their technical systems. While most of the changes will only impact us, as a registrar and how our systems interact with the IEDR's some of the changes  will impact registrants of .ie (Irish) domain names.
The most important change is in relation to how domain names are suspended and subsequently deleted.
The Current IE Domain Suspension & Deletion Process
Unlike with .com, .eu and other domain extensions .ie domains use a process in three phases for handling domain names post-expiry:
Email warning. The domain name registrant is emailed by IEDR and warned that their domain name has not been renewed. The domain will continue to resolve, so any service associated with it such as a website or email will not be impacted.
Suspension. The domain is removed from the DNS zone and will no longer resolve. Any services associated with the domain name will cease to function, so any website or email will stop working.
Deletion. At this stage the domain name is completely deleted and purged from the IEDR systems and is available for registration by anyone.
At the moment IEDR only process suspensions and deletions every two weeks on Friday at noon.
So, depending on when your domain was due for renewal, you were given quite a bit of grace – significantly more than you'd get with a .com domain. Due to the rather confusing combination of renewal dates, billing dates and the twice monthly suspensions and deletions it was quite hard to predict when a domain was likely to be suspended or deleted.
From our perspective, as a registrar, a more uniform handling of suspensions and deletions across all domain name extensions that we handle makes it easier both for us and our clients, as it removes some of the ambiguity and inconsistency. The more domain registries that use a process and policy similar to the way .com works the easier it is for us to handle.
The New IE Domain Suspension & Deletion Process
From November 23rd 2013 if you have NOT renewed your .ie domain name with your registrar the "clock" will start on the day after the current renewal date.
So, for example, if your domain's renewal date is February 1st, regardless of what day of the week that falls on, your domain will be suspended 41 days later and completely purged 70 days later.
Of course you'll still be able to renew the domain once it has expired, but the timeline will be much simpler both to follow and to predict.
If your .ie domains are with us and you have them set to auto-renew and your payment details are correct then you won't be impacted by this change, as we will attempt to renew the domains in advance of their expiry.
Changes To Handling of Transfers Between Registrars
While this will not impact us or our clients it's still worth noting.
From the end of November onwards all registrars will need to make "pull" requests for .ie domain name transfers, ie. the gaining registrar will need to explicitly send a request via the IEDR's API for a domain transfer. This is how it works in gTLDs (.com, .net etc.,) but not how it was working for .ie. This won't impact our clients, as we wouldn't accept $random transfers of domains to our billing account.
Operational Impact?
Assuming that our technical integration works properly there won't be any tangible impact, however the updates being made by IEDR are pretty big, so they're taking their systems offline for several hours to facilitate the move and upgrades.
So we will not be able to process any new .ie domain name registrations, transfer or updates from Friday November 22nd 2013 at 1730 until Monday November 25th at 0800 (we may have the ability to process new registrations and updates sooner, but I'd prefer to be conservative in our estimates)