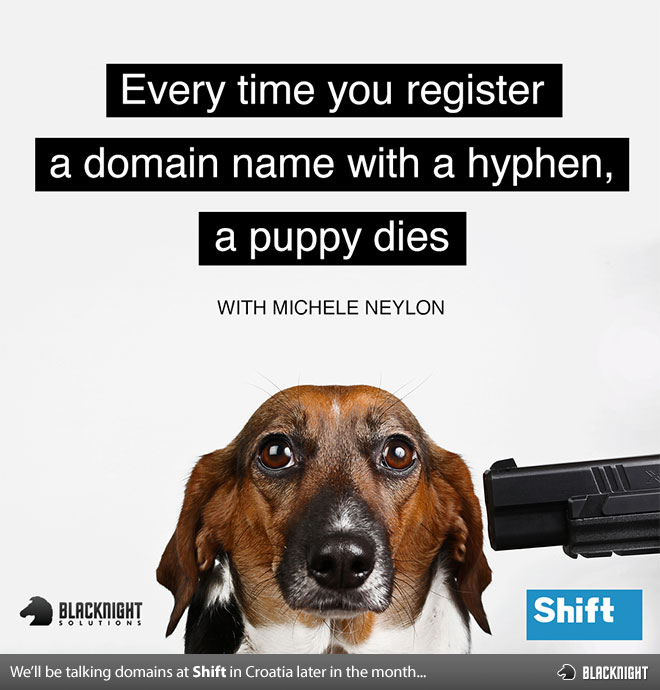 Anyone who knows me knows that I'm passionate about the Internet. They'll probably also tell you that I'm very passionate about domains and marketing.
A good domain, in my opinion, can make or break a business. If you're too "clever" people won't be able to find you, or send you email.
Sure, if you're a massive success then it won't be hard for people to find you, but most online businesses aren't multi-million dollar global successes, are they?
Choosing the "right" domain for your online venture is an important decision. But also making sure that YOU control it is key.
What about trademark issues?
What about stability and security issues?
And what about confusing domains, awkward spelling or simply unfortunate choices?
I'll be talking about these and other topics later this month at the Shift Conference in Split, Croatia. (And no, I won't be killing any puppies!). It's an event focussing on start ups and, if past experience is anything to go by, it should be both enjoyable and educational. There's a LOT of cool stuff happening in the Balkans, so I suspect there'll be quite a few companies from Croatia, Montenegro, Serbia and neighbouring countries there ..
I'm really looking forward to it!
Here's our press release:
Blacknight to Speak on The Do's and Don'ts of Domains at SHIFT Conference
Leading Irish Registrar talks creativity and valuation in the namespace

May 1, 2013 – Carlow, Ireland – Michele Neylon, CEO of Ireland's leading domain registrar and hosting company, Blacknight (http://www.blacknight.com) will speak on the value and etiquette of domains at Croatia's SHIFT conference.

Billed as "Three days of inspiring networking and awesomeness", the goal of Shift Conference (http://shiftsplit.com/)  is to create an international perspective by, showcasing the best speakers possible from all around the world. The event, formerly known as Startup Live Split, has re-branded as SHIFT Conference, which will take place in the centre of the 1700-year-old city of Split, Croatia on the May 23rd through May 24, 2013.

Events planned during SHIFT include a startup challenge, forums and speakers from around the globe, and incredible parties.  The conference unofficially kicks off on May 22, 2013 with a mentor's day for those participating in the startup challenge. The Shift Startup Challenge is accepting 32 startup teams that will participate in the mentoring sessions, however, only 16 teams will go forward to pitch their idea during the conference and only one will walk away with a $10.000 USD cash prize.

Neylon has been invited to share his knowledge of domains and the domain business with SHIFT attendees.
His talk titled "Every Time You Register A Domain Name with a Hyphen, a Puppy Dies", focuses on the importance of creative thinking and valuation when branding a business or personal identity online.

"I am very pleased to be presenting at the SHIFT conference", Neylon states. "I've been buying and building out domains for years – far longer than I've been a registrar and in that time, I've gained loads of knowledge regarding what to do and what not to, as well as what sorts of domains make good investments. If I can use that knowledge help just one person or startup choose a better domain name, the Internet will be a better place for it."

The speaker lineup also includes Mike Butcher, the European Editor of Techcrunch and Bryan Calhoun, head of Digital Strategy at The Blueprint Group.

To learn more about the SPLIT conference, please visit http://shiftsplit.com/

To learn more about Michele Neylon and Blacknight please visit http://www.blacknight.com

About Blacknight:
Blacknight (http://www.blacknight.com/) are an Irish based, ICANN accredited domain registrar and hosting company. Recipients of several awards for their revolutionary use of social media, Blacknight are one of Europe's most cutting edge Internet companies. Blacknight constantly seek to lead the way by introducing innovative solutions for its client base and provide dedicated servers and co-location as well as a comprehensive range of Microsoft Windows and Linux based hosting plans and domain name registration services to business globally.