Editor note: This is a guest post by Paul Savage of BlackDog (more info below article body).
The purpose of this article is not to insult you by calling you a dummy for reading this, in fact I have no idea what your SEO acumen is, but hopefully after reading this you will have a better idea about what role SEO plays for your business.
Search Engine Optimisation (SEO), is all about making your website appear higher in the search engine rankings (SERPs). This is achieved via best practice, and not via any "Get 1st place on Google" emails you might find in your inbox.  This best practice covers all aspects of your website, from having a website that can be easily indexed or spidered by that search engines, to having some level of authority for your content.
Generally most clients when they come to us, they already have a website, and for that reason I will talk from that perspective. If you don't have a website, get one, get one now, it may end up being your hardest working employee.
Getting fully indexed
First steps you should do is have a look at what pages are already showing up in the search engines for your domain. Here are some links to check in the 3 major search engines used in Ireland.
There are a few things you should note here, do the 3 search engines show similar numbers ? And is this number in line with how many pages you have on your website.
NOTE : Often talking to customers, they do this step, and the find out that there are important (sometimes private) documents indexed and they shouldn't be. If this is the case you need to look into :
Removing these files from your website
Putting them behind some password system
Or blocking them robots.txt file
These solutions are listed decreasing order, from a security standpoint. If the file information is particularly sensitive, and if the search engine lists some of it in it's cache or snippet, you may need to take further steps. Each of the 3 major search engines offer tools for webmasters, where upon signing up, you will be asked to verify that you own the domain, and then you can request a removal via their tools.
Steps to take if you have pages that are not indexed
The other side of the problem lies when only a small portion of your website is indexed. This is generally due to the fact that they search engine isn't aware of your page existing in the first place. Having a well structured website layout, that is based on a clear hierarchical system is a better approach. Having a flat architectured website, i.e. everything is linked from the home page, won't help the search engines learn about how your business is structured. Think of your business, and it's main target areas / product types / customer types, and structure accordingly. It's possible that you will have an overlap, and that is to be expected, but site structure is important.
Site Structure Example
If we take an example of a hotelier, and how they would structure their website. They typically have a number of different types of customers (corporate events, business traveller, families) and offer different products to each (meeting & conference rooms, loyalty products , hotel transfers, dining, rooms, recreational facilities, parking, booking process), and they have items that are relevant to all these customers like contact details (address, phone, email) . One suggestion could be to arrange these products accordingly :
Home Page
Corporate Events

Meeting & Conference Facilities
Parking

Business Traveller

Loyalty Products
Hotel transfers
Dining

Families

Rooms Layout
Recreational Facilities

Booking Process
Hotel Info

Contact Details
Maps / Directions
Now it is conceivable that families staying in your hotel will also be interested in the parking facilities, and there should be the opportunity for you to link to this parking page, while still observing the structure. Similarly it would be the same for Business Travellers, who aren't overly concerned about the room layout, but the link to this page should also be shown.
We have also separated out the booking process in the structure for two reasons.
This is the number one thing you want your customers to do on your site i.e. importance
The booking process itself isn't related to the facilities or the parking or the layout of the rooms
Now we have an example of structure, when if comes to your website, it can help to have a complete excel list of all your pages on your website. There should be a distinct reason for each page, and duplicate or similar pages should be consolidated where possible. As your site grows organically in the future you should revisit your structure document and choose where the page should reside.
Keywords, Titles & Descriptions
For each page in your structure document, you should have a clear idea as to the keywords you want to target, the title of the page and the Meta-description tag. Keywords, in the example of the hotel might look like (we will call the hotel, Hotel BlackDog, and we are geographically located in Cork)
Home Page –> Hotel BlackDog in Cork, Hotel in Cork, where to stay in Cork, Cork City Hotels
Corporate Events –> conference rooms Cork

Meeting & Conference Facilities –> meeting rooms Cork
Parking –> Hotels with parking in Cork

Business Traveller –> Central hotels in Cork City

Loyalty Products –> extended stays in Cork
Hotel transfers –> hotels near Cork airport, hotel near train station
Dining –> Where to eat in Cork, places to eat near hotel blackdog

Families –> Family friendly hotels in Cork

Rooms Layout –> Hotel rooms in Cork
Recreational Facilities –> hotels with fitness center

Booking Process –> Book a hotel in Cork
Hotel Info –> Hotel BlackDog info

Contact Details –> contact, phone hotel blackdog
Maps / Directions –> directions to hotel blackdog
As you can see here we do focus on the localised keywords for our business, people searching for a hotel in Ireland, are not as likely to convert as someone looking for hotels in Cork. Once again it's important to keep in mind the type of customer you are looking for.
Further page aspects
Page Title : these should contain or be similar to your keywords, in a human readable form. See example below for some nice examples on hotels in Cork see, yellow.
Meta Descriptions : should be a short sentence or two containing your keywords, and also. See example below for some nice examples hotels in Cork see, green.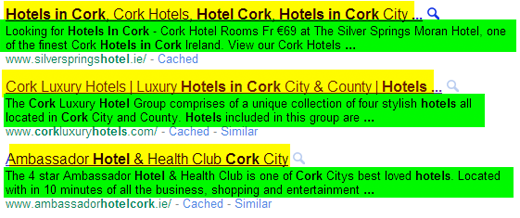 The page titles and meta descriptions are your first call to action (your first chance to get a potential customer to click on your link). It's often the case that a better call page title / meta description will make sure your result is clicked over a competitor. This has clear advantages when your competitor ranks higher than you, but you tend to get more clicks on your result. Overtime it is likely that the search engines will move your listing up, and your competitors down, due to the the fact that people searching are gravitating to your result anyway.
Extra SEO tip
One further tip is that you should make sure you have, is an entry for your Google Places. This is the blended map that appears (particularly on local based searches) in-line with the search results. Try any search for hotels in Cork or doctors in Galway. Ranking here can have obvious positive effects on your search traffic.
About the Author
Paul Savage has been working as a freelance SEO for over 4 years, and operates BlackDog.ie. Paul is located in Munich, Germany and caters to both Irish & German based customers offering SEO Manager services to companies where a full time SEO is not necessarily required. Back in 2008 Paul even won the first Irish SEO competition.