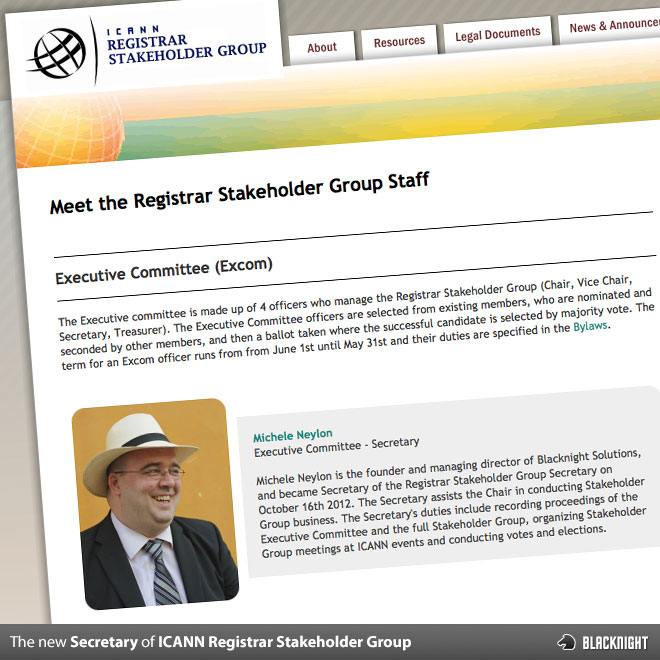 Most of the press releases we put out are about general company news or events and things that we are participating in. However from time to time there is a little bit of news that is a bit more personal. Today is one of those days.
I'm delighted to have been elected as Secretary to the ICANN Registrar Stakeholder Group and hopefully I'll do both the company, myself and everyone else proud during my time in office, which started last week.
Here's the release with more details:
Michele Neylon of Blacknight Elected Secretary of ICANN Registrar Stakeholder Group

October 24, 2012 – Carlow, Ireland – Founding Director of Blacknight, Michele Neylon has been elected unanimously to the position of Secretary of the Registrar Stakeholder Group of ICANN (International Corporation for Assigned Names and Numbers).

The Registrar Stakeholder Group (http://www.icannregistrars.org/) is one of several Stakeholder Groups within the ICANN (http://www.icann.org/) community and is the representative body of domain name Registrars. It is a diverse and active group that works to ensure the interests of Registrars and their customers are effectively advanced.

Neylon became Registrar Stakeholder Group Secretary on October 16th 2012. The Secretary assists the Chair in conducting Stakeholder Group business. The Secretary's duties include recording proceedings of the Executive Committee and the full Stakeholder Group, organising Stakeholder Group meetings at ICANN events and conducting votes and elections. Neylon is the only European member of the executive committee.

"I'm both honoured and delighted to have been elected to the executive committee as the only European member," Neylon explains. "The internet, ICANN and the web business in general are currently undergoing many changes and face a lot of challenges. It is a privilege to have been chosen to help guide the organisation through this process."

Neylon has long been a trusted member and advisor to the Internet governance community and is in excellent standing within the ICANN community. Neylon's election as Secretary of the Registrar Stakeholder Group came as no surprise and was agreed upon unanimously by its members.

Neylon continues: "Being a voice for registrars and our clients is key to being able to protect our clients' best interests while allowing our businesses to flourish and grow. The future of the Internet and domain space depends on the ability of those in advisory positions to remain open minded and committed to innovation. I look forward to the great work to be done with my fellow committee members."

Other executive committee members include Matt Serlin of MarkMonitor who acts as Chair, Jeff Eckhaus of Demand Media who acts as Vice-Chair/ CTO and James Bladel of GoDaddy who acts as treasurer.

Since the formation of ICANN, the Registrar Stakeholder Group has been the voice and advocacy organisation for Registrars and their customers and has played a very active role in policy development and other ICANN processes.

For more information on the ICANN Registrar Stakeholder Group, please visit http://www.icannregistrars.org/about/

To learn more about Michele Neylon and Blacknight please visit http://www.blacknight.com

About Michele Neylon
Michele Neylon is the founder and managing director of Ireland's largest registrar and hosting provider Blacknight (http://www.blacknight.com/) .
Michele is an active and often outspoken member of the Internet industry. He has presented at numerous internet industry events, covering a range of topics including policy, security, ICANN, Nominet, the Internet Governance Forum and Investment/First Tuesday. Michele focuses primarily on European Internet issues and policy as well as serving on the Eurid registrar advisory board and the ENUM 353 policy advisory board. He is an award winning social media evangelist and blogger as well as a film buff who speaks four languages. Michele is also a passionate philanthropist, sponsoring events such as EarthRace and 24 The Web.

About Blacknight
Blacknight are an Irish based, ICANN accredited domain registrar and hosting company. Recipients of several awards for their revolutionary use of social media, Blacknight are one of Europe's most cutting edge Internet companies. Blacknight constantly seek to lead the way by introducing innovative solutions for its client base and provide dedicated servers and colocation as well as a comprehensive range of Microsoft Windows and Linux based hosting plans and domain name registration services to business globally.
Related articles