When I joined Blacknight full-time back in January 2020, COVID-19 hit, and all in-person events pretty much stopped for two years. I was still relatively new to this industry, but I still attended the virtual NamesCons. While I learned much from them, it still wasn't the same, and I felt like I wasn't really getting the full NamesCon experience.
A couple weeks ago, NamesCon finally returned to in-person meetings, this time in Austin, Texas. Suffice it to say, I was pretty excited to finally go to one in person, visit Texas for the first time since I was a child, and meet all the domain industry people I've only known virtually for two years.
What follows are my thoughts and impressions from this event – others have written more thorough accounts of the event, so I figured I'd rather share the interesting bits that stuck out to me.
Many Interesting Meetings
We were not interested in attending as many panels as possible, as many were not really geared towards us as working industry professionals, but we had a chance to meet with vendors and other contracted parties. We had several interesting meetings – some of which were scheduled in advance, some which we had at the spur of the moment, and some which were cancelled without warning (you know who you are…). We learned of fascinating new tools, platforms, and software for our business lines. Our most valuable meeting was one that happened practically by chance, and I can't wait to explore it further after the conference. This is the most valuable part of an in-person conference like this – and something that just wasn't possible in the virtual meetings rooms of NamesCon Online.
Super Fun Parties
Another thing not possible was parties – industry parties. They tried to recreate this virtually but drinking alone in front of a Zoom audience just didn't have the same appeal as being on the rooftop of a swanky Austin hotel with an open bar. The invitations to the parties were usually more exclusive than the general conference, and some of these were in really cool places. I don't drink at all, so the joys of the parties are rather lost on me, but it was nice to get to know industry peeps in a more informal and fun environment. It was a challenge to remember how to do small talk again!
Michele Did a Panel with the i2Coaltion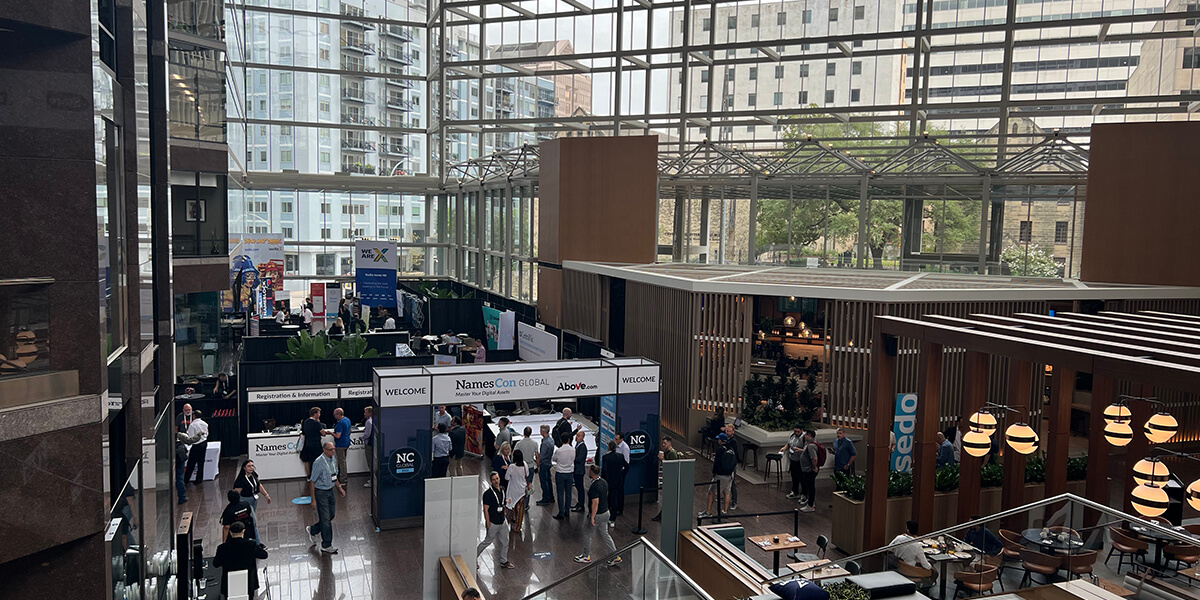 Blacknight's CEO Michele Neylon was on a panel this time; this one was called Meet Customers Where They Are In Their Domain Name Journey, which was put on by the Domain Name Association as part of the i2Coaltion. Basically, the discussion boiled down to a few key points – that customers love interacting with brands on social media, but when they go to actually purchase something, they expect to do it on YOUR website, which requires a domain and adds a level of trust they don't have with said social network.
This Twitter thread has several of the highlights from the panellists:
GoDaddy Keynote and their massive marketing budget
There were lots of 'big' panels, but one of the most interesting was the opening keynote by Paul Nicks, President, Domain Registrars, and Investors at GoDaddy. He gave a good overview of GoDaddy's recent acquisitions and what they can offer domain investors. We weren't really interested in that, but he did pass along one key bit of alarming and depressing information. GoDaddy has a $500 million marketing budget. $500 MILLION! How can smaller hosts and domain registrars expect to compete with that? It's a shame the domain industry is completely ignored by regulators in Washington DC.
NFTs/Handshake Domains Everywhere
If you made a Venn diagram of the people who are called 'domainers' (buyers, sellers, and speculators of domain names) and those who advocate the blockchain, NFTs and 'handshake' domains – it would be a circle. So, of course, that was a huge focus of NameCon. Which was rather unfortunate, as it felt like domains were rather getting neglected while everyone is chasing gold with the shiny new things (which aren't so shiny these days). Namescon should focus on DOMAINS and leave it at that.
Live Auction Report
I've never been to a domain auction, so I was very excited to be able to attend one in person. There was a lot of energy in the room, though the bar at the back certainly helped create that energy! Again there was a lot of attention on NFTs, but the overall focus was still on the bread and butter of domains – and there were some very interesting domains up for auction (like comicbooks.com – it didn't reach the reserve). The auctioneer was impressive in his speed; it was literally the stereotype of a Texan auctioneer, except he was selling domains instead of cattle! Lots of interesting domains changed hands that day!
NFT/Handshake Panel
The most exciting panel we attended was a friendly debate on whether "ICANN is Threatened by Blockchain Domains," which was really a debate on the utility of handshake/blockchain domains. I think the overall conclusion is that ICANN isn't so much as threatened by it; it's that handshake domains are functionally useless because they're not part of the main DNS root and never will be. You need special tools to use handshake domains, and 'regular' people are never going to use them because they don't understand them or need them. The handshake domain space is a Wild West. There's no authority, which is the opposite of what ICANN is. To paraphrase industry lawyer David Snead, who was on the panel, "Grandma understands ICANN."
Austin Texas
Austin is a great location for a conference! The weather was sunny and beautiful, though it did rain a few times (as we didn't really go outside, didn't matter to attendees – but there were rainbows). There are so many great restaurants in Austin – and I enjoyed every meal I had there and met some great people outside the conference. The parties were also at interesting venues, most within walking distance of the venue hotel. I do rather like how close the airport is to central Austin; it only takes like fifteen minutes by Uber. I would suggest not holding future NamesCons in late August in the days leading up to a major holiday weekend. Many people left early on Friday to get home before the long weekend, so Friday felt a bit too quiet for the final day of a major conference (and there were no events on Friday evening). Holding it the same week as a major travel holiday also meant flights and hotels were more expensive than they needed to be.
Overall, I loved my first foray into NamesCon, and I hope to go next year. Now that I know what to expect out of it, I will be able to make the most of future conferences. Really, it was just nice to go somewhere new and talk shop with fellow industry people that I've only known virtually. Hopefully, they were as impressed by me as I was with all of them!
Did you attend Namescon 2022 in Austin? Let us know how you found your experience in the comments below.