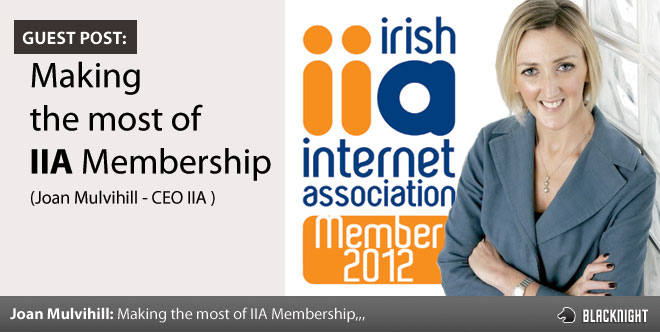 The following is a guest post from the Irish Internet Association's (IIA) CEO Joan Mulvihill. We'll be speaking to Joan later this week on the Technology.ie podcast as well.
I was a member of a gym for years and I used to go around four times a week…low and behold, I got to know the trainers really well and I actually got fit.  Then I moved house and joined a different gym.  The equipment was the same, the price, the set-up, the layout and the services were the all same so why hadn't I dropped a single pound?  Eh… because I stopped going!! Apparently, possession of a gym membership card does not make you a svelte super-fit athlete!

Being a member of any industry association works a bit the same.  The more you go, the more value you get.  I can only assume that fitness instructors choose their profession based on their passion for fitness and their wish to engender the same passion in the rest of us. Like all gym employees, I'd be happy to tell you about the benefits of joining the IIA, but the reality is, you'll have to join and attend to realise them.  I could probably stretch this analogy to quite a few more paragraphs but in the interests of you reading the rest of this post I'll take you straight to the point where this analogy ends.  You see most people who don't go to the gym don't sit at home commenting on how inadequate gyms are. They don't blame their lack of energy on the owners of the gym for not rocking up to their hall door, dragging them from their couch, strapping them to a machine and standing over them until they are the Adonis or diva they dreamt they'd be.

The great thing about the IIA, is that being a member and getting value for your membership fee doesn't involve any instruments of actual torture and we tend not to scream in your ear bootcamp style while you're doing it. We're nice people who are motivated to help online businesses in Ireland to thrive.  We want to represent all of the members by responding to their needs.

On some issues everyone wants the same thing and its all nice and straightforward. Last Summer we asked the government to give additional tax credits to the industry to address the common skills shortage. The members wanted to be able to hire more people more easily. We came up with a policy proposal, drafted it, launched it and presented it to government.  We met with the Minister, the advisors and department officials to review it and respond.  They did, in part, via the amendment to the SARP programme.  I'm not wholly satisfied that they've gone far enough but its a start and we inch our way forward from here.  This is how it works. It is about consultation and negotiation.  I appreciate that we don't always get what we want but my job is to keep us at the table. There's no point getting booted out the door with a restraining order.

But what happens when members DON'T tell me what they are concerned about?  What happens when they are on their bikes in the Spinning Class and half the class fall over with chest pains because they never told me they had a heart problem?   Well actually, they most I can do at that stage is try to administer some CPR, help to recover the situation and make sure that the person taking the class next time is aware of the issue.  I want members to tell me, in good time, so that we can avoid total collapse and so that we can work with the Class Instructor (aka the Minister) in setting a pace that works for everyone.  The recent SI issue is a perfect example.  No members of the IIA raised this issue with me until that famous Monday when everything kicked off. We managed to facilitate a meeting with the Minister with some members who had a strong opinion and deep understanding of the issues that the SI would present to the internet industry in Ireland – the industry that I am charged, by our members, to represent.

We have over 300 members in the IIA.  Sometimes they all want the same thing – e.g Skills Shortage. Sometimes they don't – e.g. the SI.  It can never be the role of the CEO to adjudicate who is right and who is wrong nor to unilaterally decide a position for the entire membership without consultation with it –  the CEO's role is to facilitate, not to judge or to dictate.

Let's be honest, the gym, bootcamp –  it's not for everyone.  Some people prefer to just go for a run by themselves. I'm okay with both, I just want the internet industry in Ireland to thrive.  If being a member of the IIA is the kind of fitness programme that will work for you and for your goals, if our ethos is one that you feel represents you then that's great. Membership works when you put the effort in.  Membership doesn't mean that the fitness instructor will do circuits for you! And if you do decide to go it alone, don't run laps of the park, running towards something is a lot more rewarding than running around in circles.