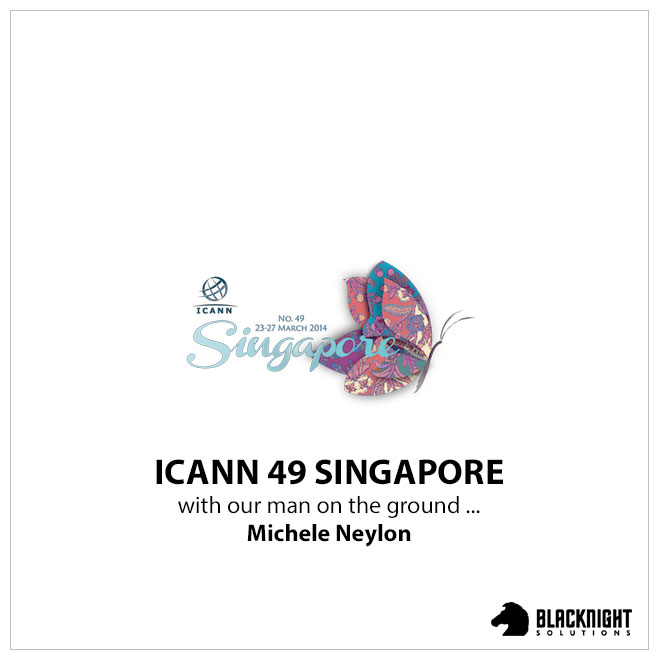 Three times a year the ICANN Community meets for a public meeting.
The meetings are free to attend and most sessions are completely open to the public. You don't need to be "special" to attend and there's several opportunities for people to share their opinions at the microphone if they so wish. You also don't even need to be there in person to follow a lot of the proceedings, as there is
The first of the 2014 meetings will officially open next Monday in downtown Singapore.
I say "officially", as in reality many of us will be in Singapore before Monday. In fact I am flying out there today, as I have to be there for meetings from Thursday morning onwards.
Like every ICANN meeting the schedule is "busy". Knowing which sessions to attend can be a chore and sometimes you'll find yourself wanting to be in two or three sessions simultaneously. While multi-tasking is one thing, being in multiple locations at once is still a bit of a problem! 🙂
This meeting will have a very different focus and air about it compared to any of the previous ICANN meetings I've attended. (I've been going on and off since 2007)
Why?
There are two main reasons:
New TLDs – they're now a reality. You can now register $thing.newtld and choose from a wide variety of new extensions. (We're currently not offering them, as we've stated several times in the past)
The NTIA announcement from last Friday. As I mentioned yesterday, we welcome this move and hope to be able to play our role in the upcoming debate on the future of Internet Governance
This week the EWG (Expert Working Group on gTLD Directory Services) , which I'm a member of will be meeting in Singapore to continue our work and prepare for a number of public sessions with the broader community next week. We've been working on a replacement for whois for the last year and we've received a LOT of feedback. Some of it has been helpful and constructive, some of it has been negative and very critical, but that's quite ok. When you're dealing with something as controversial as whois you're going to get some very strongly worded responses.
On Friday of this week the NCUC has organised a full day conference entitled "ICANN and Global Internet Governance: The Road to São Paulo, and Beyond"
With so much happening in the Internet Governance sphere the timing of this event couldn't be more appropriate. What will make it very interesting is the keynote from the NTIA's Larry Strickling in the afternoon. You can review the event schedule and get details for remote participation here.
Saturday and Sunday the GNSO, which is the policy making body that impacts TLDs (the bit on the right of the dot) will be meeting all day. If you're interested in what's going on with policy then it's a good set of sessions to follow.
On Monday the "real" meeting begins..
The opening ceremony usually has quite a bit of pomp and flair, but this time the keynote speech by ICANN's CEO Fadi Chehadé should be interesting. The announcement by the US government on Friday means that ICANN will need to start focussing on how this new reality will be handled immediately. I've no idea what he's going to say to us all on Monday morning, but I know I want to hear it.
The first public session on Monday morning will be focussed on "globalisation". ICANN was setup in the US originally, but is now becoming more global. What does that actually mean for the organisation? What does that mean for the broader community?
Also on Monday is a session dealing with Name Collisions. This has proven to be quite a "hot topic" in recent months. (We mentioned it a while back). I expect that session will be popular as the topic is quite controversial.
Monday afternoon there'll be further discussions, but this time more community driven, about about Internet Governance.
Getting new domains to work in software and services is a challenge. So the session on "universal acceptance" could be of interest if you're a developer, though it's right up against one of two sessions on Monday afternoon dedicated to whois (so I can't go to both and am speaking on panels at both the whois related ones)
Tuesday is when all the various groups hold meetings with their members and we get updates from ICANN Staff and a variety of other parties. As Chair of the Registrar Stakeholder Group that means a couple of things:
I am locked in a meeting room pretty much all day
I might wear a suit and tie (stranger things have happened)
Wednesday and Thursday have a good mix of different sessions and I'll be actively involved in several. On Wednesday there are several sessions that will be of interest to registrars such as ones on the new contract (which we still haven't signed) and "underserved regions". It'll be interesting to hear how ICANN plans to cope with some of these challenges.
Thursday at the meeting is always quite entertaining, as it's when the public forum takes place and anyone and everyone who wants to gets to speak at the mic.
So it'll be a pretty busy week.
If you're interested in following any of the proceedings the full schedule is online here and each session's remote participation details is attached to its respective listing.
Bear in mind, however, that Singapore is 8 hours ahead of Ireland and 7 hours ahead of CET, so if you want to follow it all you might need to drastically adjust your sleep patterns! 🙂