'Tis the season to buy domain names, and you can do that right through the holidays for most domain registries. What's more, we've got a special promotion on dot-CHRISTMAS and dot-LINK, both available for just €5.99 ex VAT until December 26!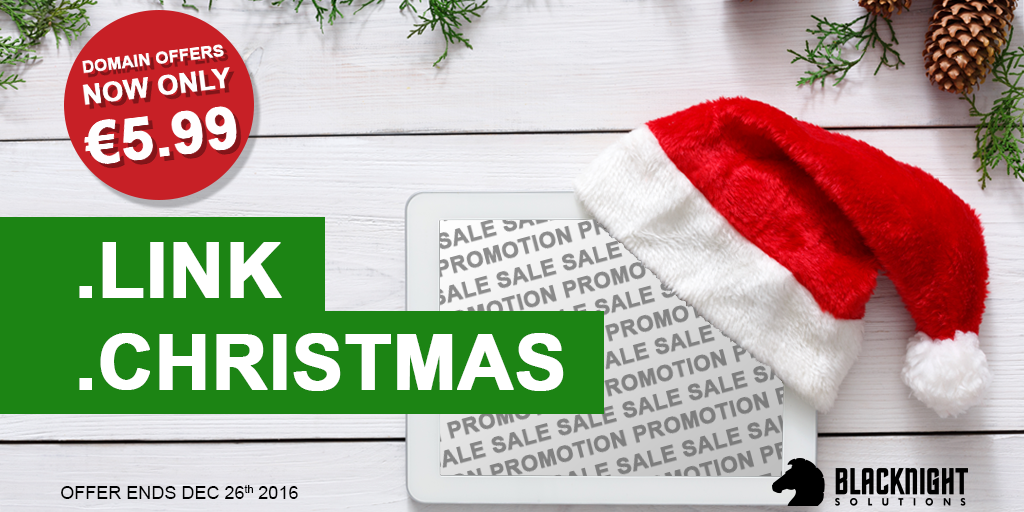 .CHRISTMAS is the ultimate 'seasonal' domain – and it's the gift that keeps giving year after year! Think of it like your decorations, dusted off each year as the evenings grow longer. Think of it like a Santa hat you wear, or a sprig of mistletoe. YourBrand.Christmas is you, only better, cuddlier, like a Christmas jumper!
Like any good domain name, how you use it is up to you. A retail special offer, a last-minute gift perhaps, exclusive to the holidays? Or do like we've done with Blacknight.Christmas, and share your holiday schedule.
Our CEO Michele Neylon shares his Christmas greetings each year via an online Christmas card: this year it's at Michele.Christmas! DomainInvestor.com described it as the perfect usage of a dot-Christmas domain.
"I never really got .Christmas before, but after seeing Michele's Christmas card, I get it"
Dot-LINK is another evocative new top-level domain which has emerged in recent times. Links are the very essence of the World Wide Web, and a .LINK domain name is perfect for communication, networking, technology, business and social projects.
Both .LINK and .CHRISTMAS are on special promotion, available for just €5.99 until midnight on St Stephen's Day, 26 December.