Update: Scroll down for recordings of all the webinars, shared here as they are produced.
COVID-19 has meant hardship and tragedy for many people. Now society is cautiously re-opening. But in doing so we must be even more vigilant, if we are to work, trade, sell and shop without spreading the virus.
Society is re-opening, but with new rules. Working from home continues wherever possible. Shopping streets are pedestrianised to help with social distancing. Signs remind us of the new etiquette: keep your distance; cover your face; respect the space of others.
The New Business is Blended
Businesses have adapted and operating procedures have changed: perspex screens; gloves and sanitiser; controlled admittance; contactless payment.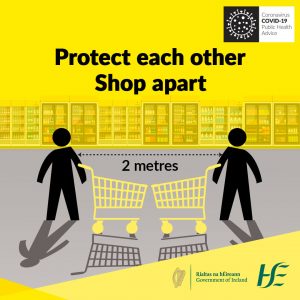 Online business has a new importance: click & collect; social media engagement; online payment and ordering systems. Not just shops, but clubs, societies and even churches have turned to technology to keep in touch with their communities, advise on opening hours, explain new rules, and provide services. No one wants to stand in line only to discover the item they want is out of stock. The new business is blended: online and onsite; clicks and bricks.
This is the new normal. Life goes on, but not the same as before.
It's been a change for us too at Blacknight. We've kept the lights on and the bits flowing for our business customers, but we've also found ourselves dealing with a new kind of customer. People who know they need to go online to keep their business alive, but who find themselves in unfamiliar territory.
Tech Tools for the New Normal
We've responded by introducing new products designed to make the transition to online easier. Build-My-Website comes with a free consultation and we'll build a simple three-page site to get you up and running. shopBuilder is the easy way to add an online store to any kind of website.
But it's not just about the tools. Working from their homes, our legendary sales and support staff have never been busier: explaining, guiding, teaching and supporting. Most of all, we've been listening. And we've learned that people want to know more about how technology can help them to rebuild and grow their businesses in the new world.
Free Webinars
We're launching a series of free live webinars to answer your questions and show you the practical steps to business online. There are five six in total: one each week beginning on Wednesday 24rd June.
Here's a YouTube Playlist with recordings of all the webinars.