We wrote last year about our plans to roll out a new hosting platform. Things got a little behind, but we're happy to announce that Blacknight's new hosting, billing, and email platform is now LIVE – for NEW customers.
So, first, let me make a big clarification for EXISTING Blacknight customers: nothing is changing for you right now!  
For existing customers, nothing will change on your current hosting plan or what you're currently paying – you will be transitioned to the new platform at a later date. Blacknight is creating a slick new control panel just for you to make managing your account easier. You will have to learn the new control panel, but it will be functionally the same – with tons of wonderful new features that Blacknight customers have been asking for (and we will provide plenty of documentation on how to use these new things, and of course, our phones and email are at the ready for support questions).
Now, here are all the details on what's new.
Blacknight's new hosting and billing platform is shiny and new and is what you expect from a web host these days. As part of this, there will be an entirely new control panel to work with, as well as new hosting plans that reflect more on how businesses currently use our products. You'll be able to use Plesk, and eventually cPanel to manage your websites.
With a new control panel, we'll have new hosting plans that will feature more storage, more bandwidth, new tools – like an app library – and so much more. Everything will be performance optimised by Blacknight engineers to work as quickly and smoothly as possible. And going forward, all new shared hosting accounts will now be using the Plesk hosting control panel and eventually cPanel (we can hear your cheers!).
Buying domains and hosting plans and then using those products in your control panel will become much easier and more flexible. And finally, something big is coming that customers have been asking for – we will have managed WordPress hosting (more details on this in a future announcement).
Here are the details for the new hosting plans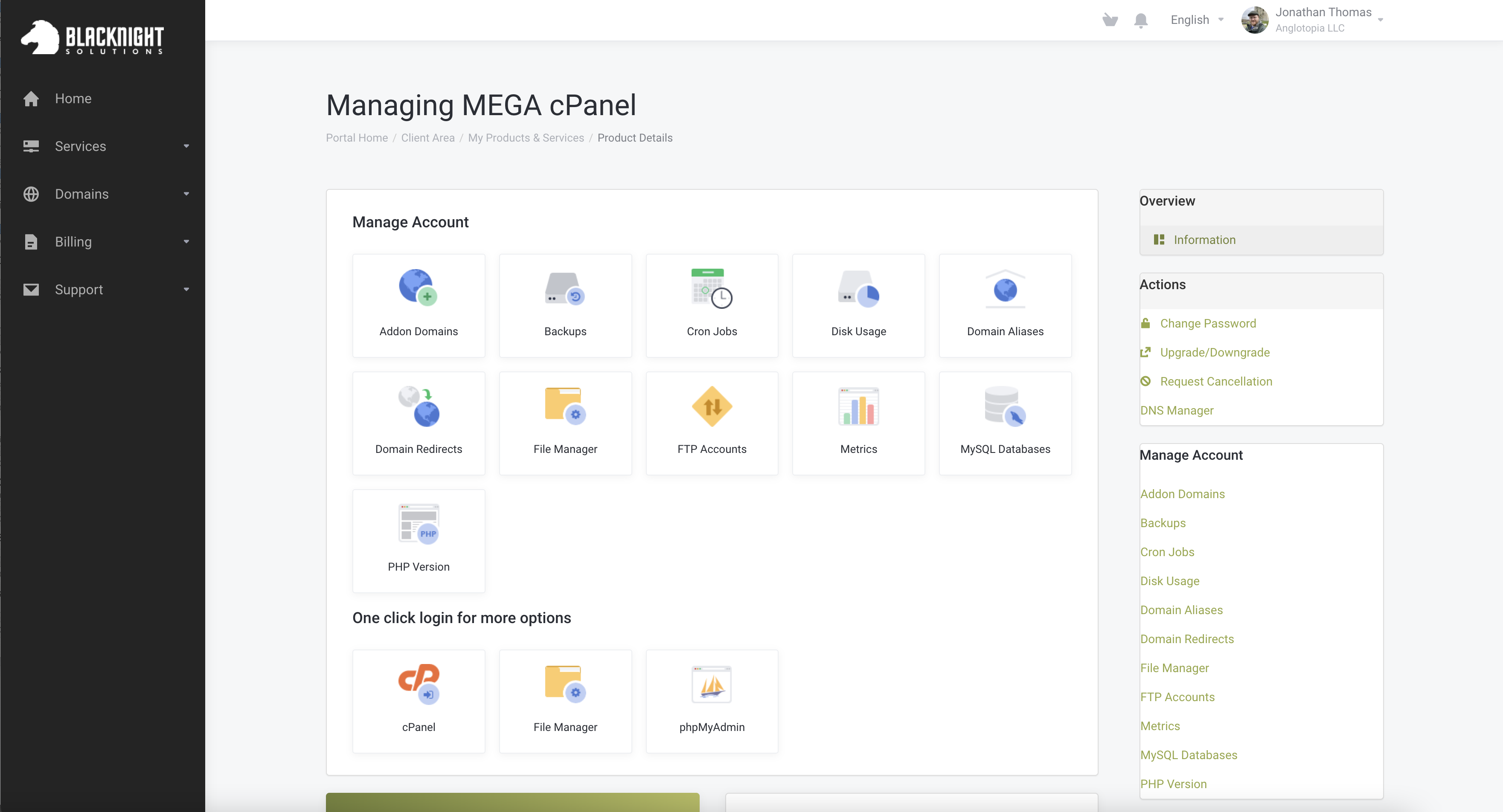 Mega plans are the beginner level for the new hosting plans. You get 1 website, 30GB of disk space, 512MB RAM, 5 Mailboxes through Titan and Unlimited Bandwidth. Plans start at €3.99 a month, with discounts for annual plans.
Giga plans are mid-range hosting plans and allow you to host more than one website. You can host up to 5 websites, have 100GB disk space, 768MB RAM, 10 Mailboxes through Titan and Unlimited Bandwidth. Plans start at €8.99 a month, with discounts for annual plans.
Tera web hosting is our new top-of-the-line hosting plan. It allows you to host up to 15 websites, has unlimited disk space, 1GB RAM, unlimited mailboxes through Titan, and unlimited bandwidth. Plans start at just €16.99, with discounts for annual plans.
WordPress hosting has come to Blacknight. WordPress hosting is different from regular web hosting in that the servers are optimised to host just WordPress websites, so they work faster, installations are easier to maintain, and your WordPress sites are more secure. On a dedicated WordPress hosting server, there are only other WordPress websites, so the server is optimised for it. This controlled WordPress-only environment is fast, secure, and easy to use. Plans are for one WordPress website, 100GB of disk space, 1GB RAM, unlimited mailboxes through Titan and unlimited bandwidth.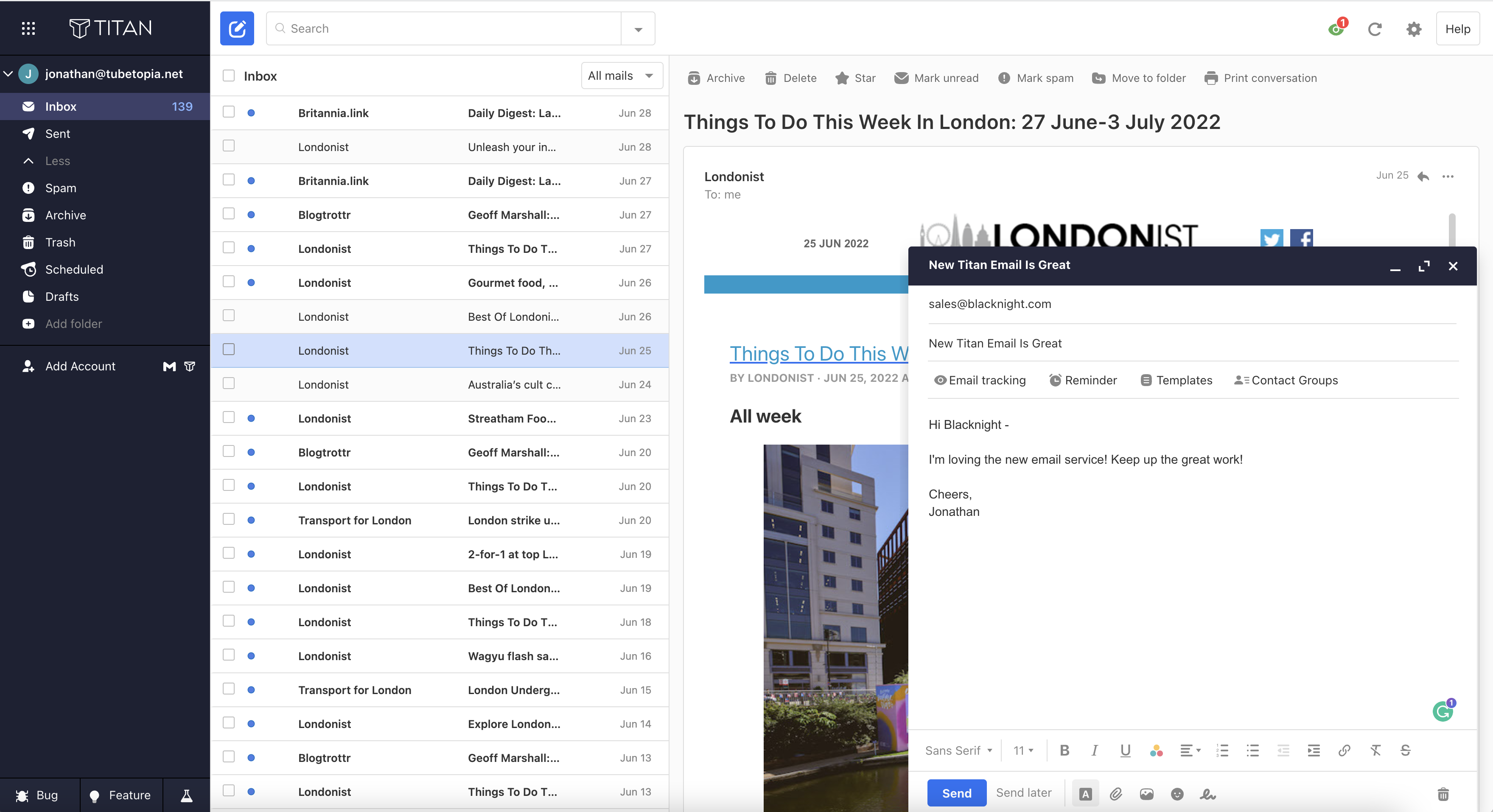 The next big announcement we have is that we're moving to a completely new email platform for our shared hosting customers. Blacknight's new email is powered by Titan Email, a new email service backed by tech titans like Automattic (the folks behind WordPress.com) and Flock. These new email hosting options are exactly what you expect from modern email services – in fact, in many cases, it's better!
Titan Email by Blacknight has a shiny new web interface that's simply a joy to use and will have mobile apps as well (and is, of course, compatible with traditional email clients like Outlook, Apple Mail, Thunderbird, etc.). To get the most out of it, though, the webmail will be where exciting new features like scheduled send, read receipts, follow-up reminders, email templates, signatures builders, calendaring, enterprise-grade security, guaranteed email delivery, and so much more.
Titan Email is included in all new hosting plans, including WordPress hosting plans. It works with the domain you sign up with and use with your hosting. Everything is set up automatically for you, and you can use your email right away once your new hosting account is set up.
If you don't need web hosting, and just want email – we've got you covered there as well. Email-only hosting plans start at €2.50 a month for one email box and include 10GB of mailbox space. It's the perfect Gmail or Zoho alternative, and it doesn't cost a fortune. Signing up is easy – just search for a domain and select email-only hosting packages at checkout.
Ready to buy some new our new hosting packages? Compare your options here.