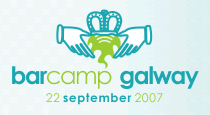 BarCamp Galway takes place on 22nd September and we're delighted to be sponsors.
We may even get to send someone to attend the event! Though I won't confirm that just yet, as it seems to curse any chance of it happening if I do!
In any case you can find out more on the event's blog or on the wiki.
So far to date we seem to have sponsored every barcamp event that's been held in the 32 counties!