Carlow & District Juveniles League have run a girls' soccer academy in Carlow for the past three years, and have competed with some success in the annual Gaynor Cup competitions.
This year, Blacknight is delighted to sponsor the Carlow Team who will take part in the Under-15 Gaynor Cup, at UL from June 27 to 30.
Leona Glover of Blacknight presented the new kit to the team at a recent event, and stood in for a picture herself with the girls and their mentors.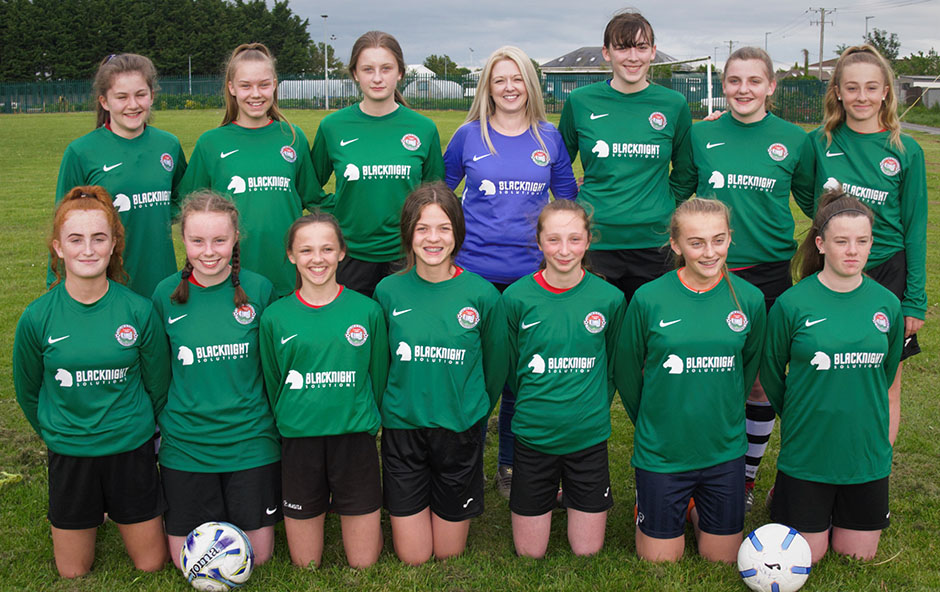 While Blacknight has customers all over the world, we are also part of a local community here in Carlow, and it's a pleasure to do our bit to support the voluntary work done by people who help to sustain our community – especially those who work with young people.
Players who have come through the Carlow academies have gone on to achieve further success. One former player is currently on the Irish Womens' Under-17 squad; two players are taking part in Uunder-16 national trials, three players are on the Leinster Under-15 Girls' squad and four of last year's Under-16 Academy are now playing in the newly set up National Womens' Under-17 League. Carlow girls are also participating at each level on the FAI South-East Emerging Talent Programme.
The benefits of sport for the physical and mental well-being of young people are well established, but women and girls often face bias and additional obstacles to their participation. The 20×20 campaign is a national initiative to highlight womens' participation and achievements in sport, and encourage a 20% increase in coverage, participation and attendance at womens' sport by the end of 2020. Find out more at 20×20.ie.