cPanel has been rocking it recently, cranking out updates to their popular web server management platform at a breakneck space. No sooner do you get used to one version, a new one comes out.
Last week, the latest version – cPanel 96 – entered the 'current' tier, meaning it's in wide release, but it's not 'stable' yet. That will come in a few weeks. But if you're comfortable playing around with it, you can install it now on your server. It's projected to read 'stable' by June 2021.
Here are a few new key features:
A New Minimal Look (It's optional)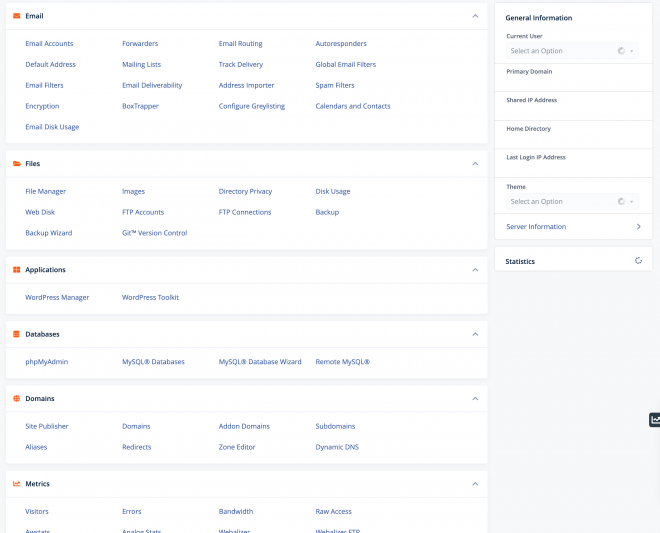 cPanel has had the same theme for a while now, and with the new version of cPanel, we get a new one – this one is called Glass. It's a clean, minimal design that eschews icons for simple text buttons. It's definitely slick and fast to load. It's not a huge departure from the old theme and many of the features, when you click into them, look pretty much the same.  I tried it, but honestly, I prefer to have the old one with icons.
Now Supporting AlmaLinux
With the news that CentOS from Redhat is being killed, the cPanel team is working hard to add support for other Linux distributions. The latest is AlmaLinux 8, which was created by CloudLinux. It's also a drop-in replacement for CentOS if you have a burning desire to switch (don't try this yourself, talk to us first). It's a fork of the last stable version of CentOS Linux, so there's not much difference from CentOS. It's a good idea to consider switching before support for CentOS ends.
NGINX Now Available from cPanel
This is the big one. Nginx caching is a powerful tool used by many larger websites and hosts to make WordPress and other Apache/PHP scripts much faster. If you wanted to install it previously, you needed to install an unsupported third-party plugin called Engintron (I did this and have been happy with it) or install it manually via other methods (configuring it was definitely not easy). Now Nginx caching will be built into cPanel, all you have to do is install it and switch it on, and then you can tweak the settings in the interface instead of at the command line.
Introducing Mail Node
This new feature is more niche, but many of us are using our cPanel servers for email. If you're using it for A LOT of emails, this can start to hog server resources. So, Mail Node from cPanel allows you to link two cPanel servers together and have one of them handle email exclusively, reducing the load on your primary production server.
Experimental ActiveSync Support
There is now a new experimental Exchange ActiveSync enhancement of the CCS plugin; cPanel users can sync email and more on Android devices.
Experimental Support for Ubuntu
In addition to now supporting AlmaLinux, there is now experimental support for Unbuntu LTS (the command line server version of the popular Linux distribution). It is still in the very experimental stage and should probably not be used in a production environment. It's expected to be fully supported by WHM/cPanel version 102.
If you run WHM/cPanel on your server, you can upgrade to version 96 right away by changing to the Current Tier in your update settings in WHM. If you're already in the Current Tier, your server likely is already running it. All of these new features will need to be configured – for example, if you want the new Glass theme, you'll have to turn it on. For more information on the changes and how to use them, look at the official release documentation here.