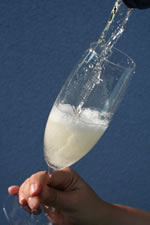 Our accounts department will be closed on Thursday and Friday this week, as one of our staff, Leona, is tying the proverbial knot. Since most of the office is invited to the wedding on Thursday we'll be closing accounts on Thursday and Friday. (Yes if you want to pay us we'll be able to manage it!).
On the subject of weddings this year has been very busy chez Blacknight with three members of the team getting married.
George, our sales manager, tied the knot earlier this summer. Carla, one of our programmers got married this weekend and now we have Leona following suit.
We wish them all the best!