Blacknight is celebrating twenty years of empowering Irish businesses online; as part of those celebrations, we thought it would be fun to go back and tell you a bit about our history – it's a fascinating journey!
Over the last two decades, Blacknight has supported the growth of the tech sector in Ireland through our services as we've grown as an Irish company, bringing Irish businesses online and making them competitive on the world stage.
How did it all start?
Like many start-up businesses, Blacknight began its journey in a house in Carlow town, where founders Michele Neylon (CEO) and Paul Kelly (CTO) began selling shared hosting, email and domains. Michele and Paul met each other on an old-school email mailing list for internet geeks in the early 2000s, back before most people even had a smartphone. They then became friends in an IRC (internet relay chat) room, where they quickly realised that they could work together to form a successful hosting company. At this point, they hadn't even met in person!
Since then, Blacknight has kept its roots in Carlow, but now operates out of multiple data centres across Ireland, supporting over 90,000 customers across 170 countries. Of course, the staff headcount has also grown; what was once two and half guys in a spare bedroom, is now 50 full-time staff in state-of-the-art offices on the edge of Carlow town.
Where did the name Blacknight come from?
One question we get asked quite a bit: why did they choose the name Blacknight? When deciding what to name his fledgling hosting business in the early 2000s, Michele settled on Blacknight Solutions due to his interest in the legends of King Arthur and the Knights of the Roundtable. The name stuck – even after it was officially incorporated in 2003. Paul and Michele kept the theme going in its early years – with most early servers using Arthurian names until they had so many servers from rapid growth that they ran out of Arthurian names to use (as an interesting aside, some of those servers ran for decades and were only recently decommissioned!).
How has Blacknight changed over the past 20 years?
The last twenty years have seen dramatic changes in the internet in Ireland. It's gone from the most common internet connection being dial-up to the majority of Irish households having broadband of some kind. Ireland became social media users. Netflix and streaming revolutionised home entertainment. Telephony has gone from fixed landlines to almost everyone having a smartphone. All along the way, we have provided the infrastructure for Irish businesses to get online.
When Blacknight started with its hosting plans, it offered 100 megabytes of storage, which was more than enough for a website in the early 2000s. Websites were mostly text back then, so that was more than enough for a business to have an online presence. Back then, technology hadn't evolved to handle the complex interactive multimedia that is so common nowadays. TikTok, YouTube, and most of the most popular sites and services we all use now couldn't have existed back then! And you wouldn't want them to anyway – can you imagine trying to watch a YouTube video on dial-up speeds! Our early network speeds were only 256k (not even a megabit a second!). Now, our network throughout peaks at 45 Gigabits. Per Second!
The web in Ireland developed quickly, and with the introduction of e-commerce, Blacknight had to quickly adapt and change with the ever-growing industry to support the needs of its growing base of customers. Selling online was a huge change for most businesses in Ireland and led to new opportunities that many businesses never predicted. Blacknight has been there all along the way to help you sell online (and still do this day – check out our simple-to-use shopBuilder product).
Want to see something fun? This is our homepage from 2003 from the Internet Archive (and on a different domain before we got blacknight.com).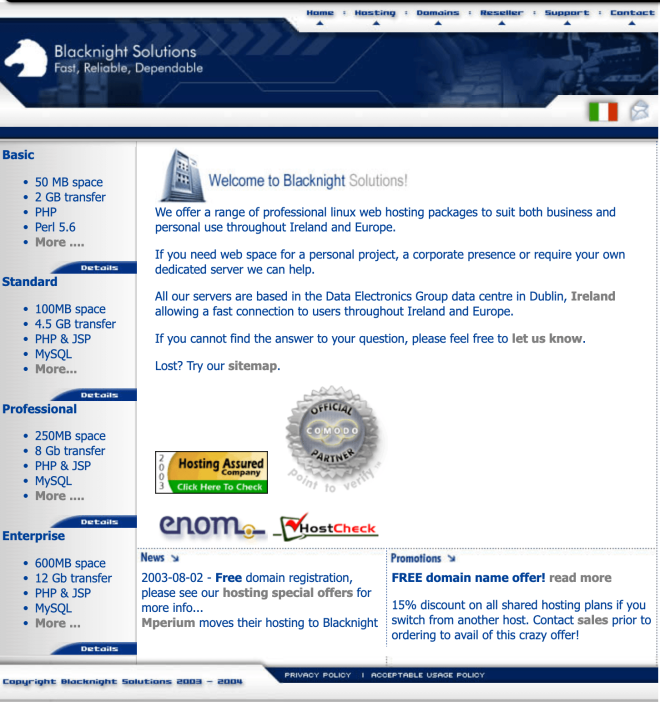 Over twenty years, we've gone from a single server to running entire data centres where we now serve tens of thousands of customers while also building a super-fast network so that we now offer broadband services across Ireland.
Major Milestones in Blacknight History
Here's a timeline of some of the most important events in Blacknight history:
2003 – Blacknight incorporates as a limited company
2005 – Officially moving to a proper office at Blacknight HQ Carlow (where we're still located to this day)
2009 – ICANN accreditation
2014 – Carlow Data Centre installed (on Michele's birthday!)
2016 – We went live in the BT Data Centre in Dublin
2016 – ISO-Certified
2019 – Started offering Broadband Services
2020 – Major office expansion and renovations
2023 – Installed Solar Panels on Carlow HQ Roof
2023 – MyHost.ie acquisition
Key to Success
Quality customer service is at the core of our offering. When you call us, there's always a familiar Irish voice at the end of the line. Our dedicated support team is always at the ready to help solve any issues that arise with running a website, server, domain registration, or broadband services. We take the approach that being transparent with our customers works best, not only with our pricing, but also with any technical issues such as outages or maintenance. Our trained engineers keep an eye on their infrastructure 24/7, ensuring 100% uptime for all its services most months. We are active in supporting our local communities and giving back to our local clubs, societies and the arts.
Keeping it Green
Carbon footprint is important to our corporate responsibility. As members of the Climate Neutral Data Centre Pact, we've been working with other European data centre operators to ensure our operations are carbon-neutral by the year 2050. When we recently renovated our offices, we installed the latest green energy-saving tech for heating and cooling, automated lighting, and more to ensure we use as little energy as possible. In 2023, we installed solar panels on our Carlow headquarters roof, ensuring that we generate enough power for most of our day-to-day office operations.
Blacknight at a global level
While we ourselves are an SME, we have always punched well above our weight. We have also been an important voice at an international level, participating in several important organisations responsible for Internet governance. As a member of the Internet Infrastructure Coalition, Eco, as well as working with ICANN on several important industry issues, Ireland has had an important voice looking out for Irish interests when it comes to making big decisions for how the internet operates all over the world. This international participation ensures Irish views have a seat at the table affecting policy on governance, privacy, security, piracy, and universal acceptance of domains and internationalised domain names.
Looking ahead at the future of Blacknight, Paul and Michele have big plans. They'd like to see the company grow its headcount, expand its data centre footprint, become more energy efficient, and be ready with the infrastructure Ireland will need as the internet and its usages evolve.
We can't predict how the internet and business in Ireland will change, develop, and grow, but we can be ready for it when it does!