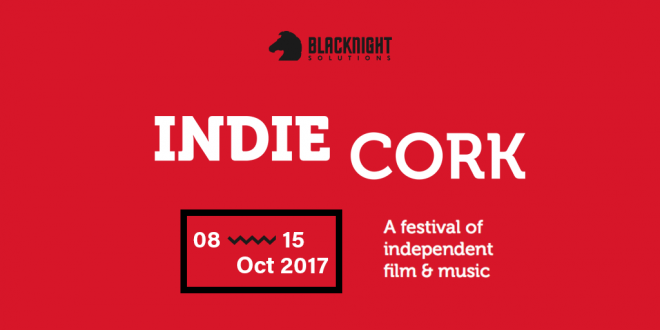 As the programme for the Blacknight-sponsored IndieCork Film Festival 2017 goes to print, we reveal some of the highlights of next month's festival, in a podcast interview with Úna Feely of the organising committee.
Click on the player below to play the podcast, or download it here: 11:56; 7MB; MP3.
"It's very much a festival about emerging and independent artists", Úna says, describing IndieCork as
"a creative space where people can come together, get their films shown, meet an audience, which is really important, actually, if you are making a film or creating music, that you have an opportunity to engage with an audience"
As well as showcasing the finest international work, IndieCork provides a special opportunity for Irish filmmakers, and for in particular for those in Cork. There are two programmes under the banner of 'Creative Cork' – 18 short films in total. "There's a great sense of community when filmmakers come together like that to view each other's work", says Úna.
Besides the Cork films there are 50 entries in the Irish competition for short films.
"We also have a documentary panorama, and that would be both Irish and international. We have a features showcase, and they would be Irish and international. We would have a fair amount of Irish work in that we feel that that's a role for IndieCork, to promote Irish work."
Festivals like IndieCork play a unique role in modern media, says Úna. While so much is on tap nowadays, on the internet and mobile devices, audiences relish the chance of the face-to-face encounter and the opportunity to hear filmmakers discuss their work.
Music continues to play a central role at IndieCork, and there's a full programme of live performances each night at the Blacknight Festival Centre, at The Village Hall on St Patrick's Quay. The venue will be open each day to provide a hub and a social centre for IndieCork.
This fifth year of IndieCork is very much seen by the organisers as a breakthrough year, Úna reveals, and they're especially pleased with the quality of events on this years programme. The highlights include the opening film of the festival, the Irish premiere of Beach Rats by New York director Eliza Hittman. This film won Best Director at Sundance earlier this year, and all the director's early short films have been featured at previous IndieCork festivals.
The closing-night film is also by a female director: Summer 1993 is the debut feature by Catalan director Carla Simon.
This year sees the Visegrad Film Festival come under the wing of IndieCork for the first time. Visegrad Film Festival brings to Cork once again a brand new selection of short and feature films from the Eastern European nations of Poland, Hungary, Czech Republic and Slovakia, including It's Not The Time Of My Life from Hungary, which won the Grand Prix at the Karlovy Vary Film Festival in 2016. Director Szablocs Hajdu will be present to introduce the film to the Cork audience.
Irish director Patrick O'Shea will introduce his documentary titled Why Is There Anything Instead Of Nothing, which depicts the life and work of Irish-American artist Tighe O'Donoghue/Ross. This film has been picked up by a UK distributor and will be participating at the MIPCOM media market in Cannes, the weekend after IndieCork. This film will also features as a case study in the Screen Training Ireland workshop on 'How To Get Your Project Financed, Produced, Delivered and Released' which will take place on Thursday.
That workshop is one of a number of events designed to provide practical help and advice for independent filmmakers and artists. It includes the Blacknight workshop titled How to Make a Website in 20 Minutes which I'll be running on Saturday 14 September – more details to follow!
Another highlight of the week is the 'Film Feast' which combines a classic film with a culinary experience. This year's Film Feast features the film Big Night, at the Blacknight Festival Centre on Thursday 12 October.
The IndieCork Festival Programme 2017 is printing as I type, and will hit the streets from 1pm tomorrow in time for Culture Night. Listen to the podcast for a preview of what to expect, and we'll have more news over the next few weeks here at Blacknight.blog.
UPDATE: If you are out and about for Culture Night tomorrow night, 22 September in Cork, IndieCork are hosting a short film screening at 18, Cove Street (rear of the Quay Co-Op). It starts at 7.30pm, a selection of shorts lasting 40 mins. all welcome!
Subscribe for free to receive The Blacknight Podcast, via Apple Podcasts or RSS.